Tablescaping – 19 ways to create a beautiful table setting for the holidays
Tablescaping is the trend that's here to stay – here's how to create a sense of occasion with yours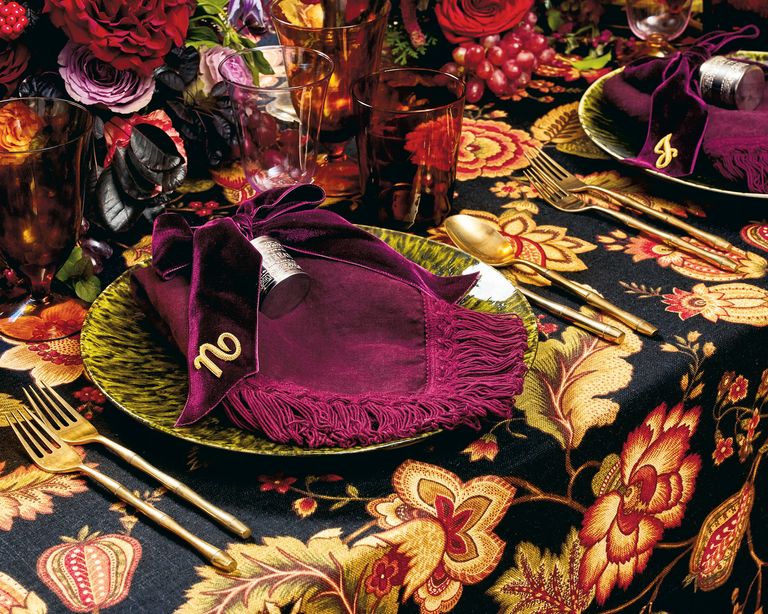 (Image credit: Fiona Leahy)
Tablescaping, the art of dressing a table, is something everyone can achieve stylishly, no matter the size of the dining table, the type of flatware you own, or your overall style.
One of the best things about tablescaping is that there aren't really any set rules – it's essentially a creative outlet with instant gratification. Tablescaping comes into its own in the festive season when we are all looking for clever ways to showcase our Christmas table ideas.
'Channel Maya Angelou who said "People will forget what you did, and forget what you said, but will never forget how you made them feel!", and focus on how you want your guests to feel and remember your dinner party,' advises Gina Hardy, McQueens Flowers Head of Events.
With the holiday season approaching, there's no better time to get involved with this trend. We've selected a few of our favorite tablescaping ideas to get you thinking about how you might dress your Christmas table later this month.
Tablescaping
Tablescaping isn't just about knowing how to set the perfect Christmas table – it's also about creating a sense of occasion with clever tricks. We list our favorites below.
1. Build your tablescaping around the centerpiece
A Christmas table centerpiece – or perhaps Christmas table garland ideas – should be your starting point when tablescaping. It might be that you design it to echo the patterns in your china or the color of your napkins, but it will be the focal feature of your tablescape, so you do want it to stand out.
'There's a decision to be made with a centerpiece – whether at Christmas or in high summer,' says Homes & Gardens' Editor in Chief Lucy Searle. 'And that's to do with its size. If you want impact, it might be larger than the table can cope with when it's laden with food, so you may want to make space to move it on to a console table once you start serving dinner. Left on the table, it should never be so big that guests opposite each other can't see past it.'
2. Match your tablescape to your decor
Tablescapes work best if they complement their surroundings, so during the festive season, be inspired by your Christmas dining room decor to choose a colorway, materials and china that works with the decorations throughout the rest of the space.
This is true at any time of year, whether you are planning a festive feast or a summer wedding party.
3. Focus attention on your guests
Tablescaping, as we said above, isn't just about how the table looks, but also about how it makes your guests feel – and the best ways to make them feel welcomed and special is with Christmas table gift ideas. This is another idea that can be adapted year-round. Depending how much time you have, you can of course give small individual gifts to each guest – or buy lots of the same type of gift, such as beautiful scented candles, and put them in a cute gift box.
3. Look to nature
Christmas foliage ideas are wonderful anywhere in the home, and will add a fresh and lively dimension to your dinner table.
'Bringing the outdoors in at this time of year is an effective way to decorate your table,' notes Ronny De Koning, global buyer at Petersham Nurseries. 'A large vase of branches and garden foliage can look both dramatic and stylish. I like to mix these with a few decorations scattered across the table.'
One tablescaping trend with foliage is creating a living runner. There are two main ways of doing this. Firstly, for a relaxing look, forage long loose sprigs and branches of eucalyptus and ivy to trail all all along the center of the table, embracing all the natural kinks and curves. Dot with clippings of holly, dried seed heads and pine cones to enhance the earthy, natural feel.
For a more formal approach, lay either one long, or several small, blocks of floral foam and carefully inset small sprigs of all your types of foliage, being careful to create a fairly even surround and building up to the desire height and depth.
Gina Hardy notes that that, 'no one wants to start shuffling flowers around to see the person opposite, so remember "'the conversation will flow if you keep things low".'
To continue this ode to nature, select hand-blown drinking glasses, natural linens or cotton napkins, and pretty, individual foliage-focused place settings.
4. Opt for elegance
Enjoy a sophisticated moment without stripping back to minimalism.
Part of tablescaping which is often left to the last moment is the choice of glassware and cutlery. Considering these as you would the centrepiece or lighting make a huge difference in the overall look.
Structural glasses with a metallic tint, work wonderfully for the festive season, and setting out the set (champagne, wine and water) to take your guests through dinner elevates the setting to restaurant level. Similarly, rather than relying on your everyday knives and forks, set out cutlery which work with the scheme and, again, lay out pieces for each course in advance.
For Christmas, a small, neatly wrapped present becomes the perfect placeholder.
5. Choose a color scheme
'I like to steer clear of white plates,' muses interior designer Penny Morrison. 'Why choose something so plain when hand-painted ceramic tableware can instantly add a beautiful artisanal feel to your set up?'
Transferring traditional Christmas color schemes to your dining table will really envelop your guests in the festivities, and there's something very comforting about using these reds and greens we so associate with December.
Use the colors over place setting, flatware, linens, glassware and any centerpieces or floral arrangements. Just try and stick to like shades to keep the look chic.
6. Inject some personality
Tablescaping should be, purely and simply, fun. Not every occasion calls for white linens, pillar candles and antique silverware.
This Christmas, consider bringing sunshine to the table by mixing and matching colours and patterns across linens and centrepieces. 'Be unexpected. You might think that a certain tablecloth might not look good paired with certain table mats but you never know!,' advises Penny Morrison. 'Sometimes the most unexpected pairings are the best so don't be afraid to get a bit playful and creative.'
Up the ante by including shining baubles along the table, in an array of rainbow brights that pick up key shades you've used elsewhere. Overall, you really only want to highlight two or three colors to stop the scheme from being chaotic. These color threads will help tie the mixing of patterns together.
'This year, I definitely think colours like blues and pinks will be more prominent,' says Alice Naylor-Leyland, founder of Mrs. Alice. 'I also think there will be lots of different textures, such 
as feathers and glitter, as well as 
a more dressed-up approach to make the occasion stand out.'
7. Make an everlasting impression
Dried flower arrangements are seriously having a moment right now, so look at these zeitgeist-y blooms when setting your Christmas table.
'Over the festive season, we like to use a mixture of bud vases with dried flowers, including helichrysum, in warm jewel-like tones,' says plantswoman Kitten Grayson. 'Put larger headed flowers like helichrysum at the neck of the vase and airy grasses dancing on top to create movement without interrupting conversation across the table.'
8. Add some whimsy
Whether or not you have children in your home, Christmas is the ideal time to have a play. Remember, 'you don't need a lot to make a statement,' notes Georgie Evans, MD at the Wedding Present Company. 'Just consider your colours, tones and textures for a consistent message.
Kitsch Christmas ornaments and baubles make wonderful additions to a tablescape. Try placing a few on the table and tying them together with a decorative bowl full to the brim with decorations - the child inside will love this so much more than some more veggies.
Festive gift boxes on place settings could each contain a similar bauble a thoughtful and unexpected gift to your guests.
9. Consider textures
Texture is so important when it comes to creating a multi-dimensional tablescape.
'More is more!,' says Penny Morrison. 'I love a maximalist approach so I always suggest using lots of accessories and layering different table linens to add different dimensions to the tablescape.'
Think tactile chargers, woven placemats and the softest linens.
10. Make it powerful and personal
Christmas is often about decadence, and this is a great source of ideas for creating a festive tablescape. 'I take inspiration from dark winter florals and rich berries and build the table from there using super cosy colours like dark forest green and burgundy,' says tastemaker Fiona Leahy.
If you're going all out, why not look towards elaborate personalization for your guests, too. 'I'm a sucker for personalisation because I think it makes those around the table feel special, but also because you can often gift the personalised item to your guest to take away with them,' says Lisa Mehydene, founder of edit58.
'Things I've done include personalised napkins and name cards. But one of my favourite ways to personalise a table is to have guest's name or initials on their glass. I'd choose festive colours for the letters to make it feel Christmassy.'
11. Create height
It's easy to focus so much on looking down at the table that you forget about how the table looks from afar - which is how your guests will view it as they arrive.
Layering heights adds drama and a sense of occasion, even if it is only an informal gathering.
Build up height right from the base, making use of chargers, placemats, dinner plates and decorative plates. Next, glasses should naturally vary in height depending on beverage anyway. Dot the center of the table with floral arrangement of varying heights as well, and finally finish with tall candles. You can have small, pretty votives as well, but tapered candles always look good flickering above, too.
12. Play with pattern
A pretty pattern based look can be incredibly striking, and also add an element of personality and energy to the table.
'I love to mix and match different hand-painted ceramics to create a tablescape that really tells a story,' says Penny Morrison. 'Guests arriving at a well prepared and welcoming table are instantly flattered that you have gone to all this trouble for them and it sets the mood and the expectancy of delicious food.'
Penny explains how she creates a look like this: 'When planning a tablescape I start with a tablecloth – for less formal dining I have a large selection of patterned tablecloths, and use our colored wicker table mats over them, and then play with various glass candlesticks and pale-colored candles, mixed in with coloured water glasses. I have several sets of china so use ones that complement or match whatever tablecloth I am using.'
13. Set the scene with a hand-painted tablecloth
Glamorous and fun at the same time, a hand painted paper tablecloth in bitter chocolate hue has that je ne sais quoi which makes French style so chic. Accessorize with bamboo cutlery, pink water glasses and striped blush napkins with a fancy frill trim for the most elegant candle-lit soiree.
Hand-painted name placecards with illustrations of the guest's chosen aperitif invites all to their places. A gorgeous finishing touch. Negroni anyone? Or was yours a rosé?
14. Hand-paint place cards
Pink and bitter chocolate make a heavenly pairing when choosing color palettes for a celebratory dinner. The combination feels both fun and sophisticated at the same time. And hand-painted drink cards by Chiara Perano make a beautiful alternative to a place name card. Guests can choose to sit where their aperitif of choice has been placed. Such a charming idea.
15. Set the bar with chic linen napkins
Choose linen napkins for your place settings. Here the Adam Lippes Coquille dinner plate is teamed with Esio tortoiseshell cutlery from Oka. Loosely tie rope or yarn around your napkin with a seasonal flower – it makes an effortlessly graceful napkin holder.
16. Glow up with candles
Layer a wool runner over a linen tablecloth to create an inviting and informal setting, with relaxed arrangements of seasonal flowers. Simple brass candlesticks ensure a refined finish. The Emily linen tablecloth in Peat, Heddon brass candlesticks and Coleridge Olive dinner candles are all Neptune.
17. Work with the season
Tablescaping is a year round activity, and it's a delight to create different looks to work with the various seasons, occasions and holidays.
Summer tables can be especially enjoyable as there's such an abundance of natural beauties at your fingertips.
'A relaxed alfresco inspired tablescape should be quick and easy to pull together, looking effortless,' advises Georgie Evans. 'Simple linens, tonal colours, relaxed glassware and your everyday china can all be elevated to be season specific with flowers cut from the garden and beautiful taper candles.'
We also love this idea of a small seedling as a dual place setting and gift for your guest.
18. Make it monochrome
Color is of course wonderful, but it's not for everyone or for every occasion.
Monochrome tablescaping can be incredibly chic and contemporary if done carefully. One of the key things is to remember that monochrome can absolutely include neutrals. By widening your perception of what can be included, you'll find the look becomes a lot softer and fresher.
Embrace natural materials here, as they provide a warm and neutral base for any monochromatic accessories such as linens or glassware.
19. Make everyday special
The most important thing to know about tablescaping? It doesn't have to be saved for special occasions.
Just like that dress hanging in your wardrobe, why not dress up your table for everyday use - you'll find it brings a smile to your face, and make your appreciate every meal more.
Take note from presenter and columnist Laura Jackson who explored this during lockdown, encouraging her Instagram followers to 'Make a meal of it' and celebrate every dinner as though it were at a favorite restaurant.
How do you make a tablescape?
To make a tablescape, firstly decide upon what mood you wish to achieve - is it a celebratory, formal or relaxed evening?
Once you have the feeling in mind, consider what elements you can bring in to work with this. 'You can 'set the mood' from the get go,' says McQueens Gina Hardy. 'Think about whether you want to dial up the glamour by filling the room with candlelight and reflective surfaces such as mirrors, glass and crystals - or you're aiming for a more informal, natural affair reminiscent of the summer holidays we've all missed this year - or perhaps you need to create a more formal, sophisticated feel to impress your guests.'
Match this mood with flowers, linens and lighting and before you know it your tablescape will start coming together.
How do you set a basic table?
Setting a basic table for a meal can be as simple as you wish.
Traditionally, the most pared back one would go for dining involved placemats, coasters, cutlery, wine and water glasses, napkins and a centerpiece.
These days of course, there are no firm and fast rules outside of restaurants, so aside from the essentials, you really only need place what makes you happy.
What is the centerpiece on the table at dinner?
A classic centerpiece would be a floral arrangement, and this is still very popular today, although these days that would also include bud vases, living runners and platters of cut flowers or foliage.
The parameters for a centerpiece have, however, considerably widened over the years, and now t can be just about anything you would like - a bowl of seasonal fruit, a dramatic candelabrum or an array of antiques or foraged materials from the garden.