Best drip coffee makers: 9 best buys for fuss-free, delicious coffee at home
If you love coffee as much as we do, the best drip coffee makers will become a kitchen fixture. Here are our picks
Included in this guide:
1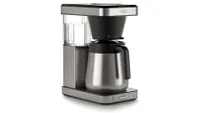 OXO
8 Cup Coffee Maker
2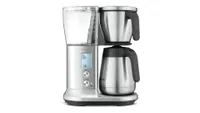 Breville
Precision Thermal Brewer
3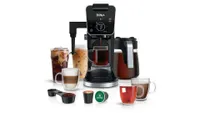 Ninja
DualBrew Pro
4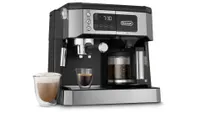 De'Longhi
All in One Combination Coffee Maker
5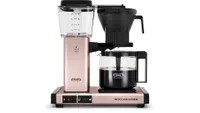 Technivorm
Moccamaster KBGV Select 10-Cup Coffee Maker
6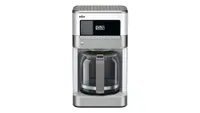 Braun
Brew Sense Drip Coffee Maker
7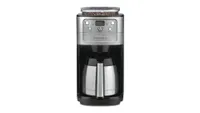 Cuisinart
DGB-900BC Grind & Brew Thermal 12-Cup Automatic Coffeemaker
8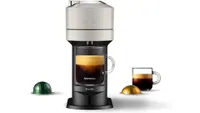 Nespresso
Vertuo Next Coffee & Espresso Machine by Breville
9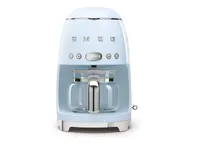 Smeg
DCF02 Drip Filter Coffee Machine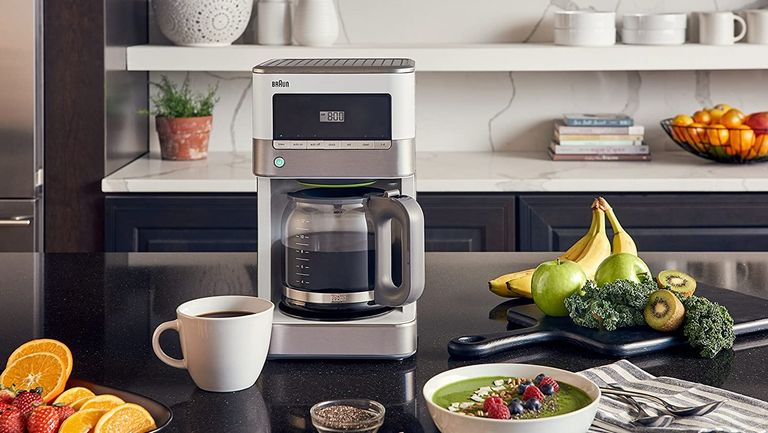 (Image credit: Braun)
Some of us require copious amounts of coffee to function, while others can get their days started with just a single cup. The common link, you still need the best drip coffee maker to accomplish the task. The coming picks that you're about to read about in this guide, are up for the challenge.
We've considered and tested the best coffee makers to decide on the best ones that should claim a spot on your kitchen counter. The best drip coffee makers should be easy to use, after all, they're likely how you'll start your day, and make a consistently great cup of coffee with dependable flavor and temperature.
The best drip coffee maker is a jumping-off point to creating the coffee just how you like it whether you take it black or with cream and sugar.
Be sure to pair your new drip coffee maker with the best coffee grinder for fresher than fresh coffee and the best milk frother to whip up delicious lattes and cappuccinos at home.
The best drip coffee makers of 2022
1. OXO 8 Cup Coffee Maker
Best drip coffee maker, overall
Specifications
Cups: 8
Dimensions: 13.5" x 10.5" x 7"
Warranty: 2 years
Reasons to buy
+
Brew a single cup or a full carafe
+
BetterBrew precision brewing meets SCA Golden Cup Standard requirements
+
Space efficient
Reasons to avoid
-
The water tank isn't removable
-
Not programmable
OXO may not have started out as a company that emphasized coffee, but with a brand ethos to make daily life easier and designs, well, better, they've engineered a wonderful machine that has everything you need in a simple, elegant coffee maker.
The OXO 8 Cup Coffee Maker is one of the few at-home coffee makers that meet the Specialty Coffee Association's Golden Cup Standard, though we should note several of these brewers have made our list or were considered. This certification means that the brewer reached the association's standards for water quality, coffee-to-water ratio, grind/particle size distribution with a temperature between 195 and 205 degrees, and a brewing time of fewer than eight minutes for the best cup. The OXO brews a whole pot in less than six.
Key features
OXO forgoes complicated settings, and opt and instead focuses solely on the coffee. Brewing is a breeze with just two buttons: a switch to toggle between the full-carafe or 1-4 cups and power. OXO's BetterBrew precision brewing system controls water temperature, water volume, and brewing time, all of which contributed to its Golden Cup Standard rating. All you need to do is add the right amount of coffee, for the perfect cup every time. A rainmaker showerhead evenly distributes water over the grounds. The OXO uses a leak-proof double-wall, vacuum-insulated thermal carafe that keeps your coffee's temperature without the need for a hot plate, which could burn the coffee.
Also, should you want to just brew a single -cup of coffee (i.e., the 1-4 cup option) sans coffee pods, the OXO brew includes an optional single-serve accessory to enhance the flavor for one-mug brewing.
Now, what the coffee maker does not have: programmability or timers to fuss with. We thought we'd miss being able to program, but if you're really keen on having the best coffee, you're more likely to ground fresh beans every morning than let grounds sit overnight.
We also love its slim profile that can tuck into small spaces. The water tank, however, is not removable and does not include a filter.

Why you'll love it
Amazing coffee doesn't have to be fussy, and sometimes, we think it's necessary to skip bells and whistles to get to the good stuff. OXO's 8-Cup Coffee Maker makes a great cup of coffee each time, it's reliable, attractive, and the fact that it has the ability to brew a single-cup is very nice.
Homes & Gardens rating: 5 out of 5 stars
Best drip coffee maker for coffee perfectionists
Specifications
Cups: 12
Dimensions: 12.4" x 6.7" x 15.7"
Warranty: 2 years
Reasons to buy
+
Beautiful design and slim shape
+
6 preset brewing modes
+
2 filter baskets
+
Temperature control
+
3 flow rates
+
LCD screen
+
Stainless steel carafe
Reasons to avoid
-
Expensive
-
Water tank is not removable
Now, if you're the type who loves to experiment with their coffee specifications and tailor-make their coffee down to bloom time, well, the Breville's Precision Thermal Brewer will have your coffee routine transformed.
Key features
The coffee maker has six pre-set brewing modes, including Strong, Gold (meets SCA requirements for a Golden Cup Standard), Fast, Over Ice, and Cold Brew, but the real magic is you can even customize (and save) settings for temperature, bloom speed, and flow rate. Everything is precisely down to your desired specifications, and it's easy to operate with the LCD screen and control dial. It's programmable too, so you can set it to start brewing before you wake up, but if you do sleep through the smell of fresh coffee, the thermal carafe keeps the coffee hot for a longer time without the risk of burning the coffee as a hot plate can. Depending on the amount of coffee you choose to brew (up to 12 cups), there are also two filter baskets: a cone-shape and a flat-bottom filter, which is recommended to use when brewing more than 8 cups.
Why you'll love it
The coffee maker itself is not cheap, but the price reflects the materials (stainless steel parts), advanced technology (Thermo Coil Heating System), and customization features. You'll never feel like you're limited in your options.
Homes & Gardens rating: 5 out of 5 stars
3. Ninja DualBrew Pro
Best drip coffee maker for variety
Specifications
Cups: 12 cups/ 60 oz.
Dimensions: 11.39" L X 9.13" W X 15.54" H
Warranty: 1 year
Reasons to buy
+
Slim design
+
Touch-screen feels high end
+
Brews a variety of sizes from 2 to 55 oz. to minimize waste
+
Built-in measuring scoop and whisk-style milk frother
+
Hot water option
+
Option to go pod-free, use K-cups, or brew 12-cups
Reasons to avoid
-
Not intuitive to use out of the box
-
K-Cup Adapter has to be removed to brew a carafe
-
Specialty coffee concentrate is not a true espresso and requires clean up to brew specialty-serve consecutively
There's no shortage of coffee combinations that you can make with the Ninja DualBrew Pro: Classic, Rich, Over Ice, Specialty (sort of like a super-concentrated espresso), various cup sizes ranging, built-in milk frother, and even a hot water dispenser. But the real selling point, is the opportunity to alternate between a k-cup compatible machine to a 12-cup coffee maker.
Key features
The Ninja DualBrew Pro is one of the most feature-laden coffee makers we've seen in some time with numerous brewing options and cup customizations. The removable Ninja Adapter Pod works with K-cups and is removed to make single-cups up to carafe sizes. It arrives inserted into the filter-basket, and though it took some time to figure out, once you know how to use the DualBrew Pro and its many features, switching between grounds, k-cups or the hot water dispenser becomes muscle memory.
Why you'll love it
There are really many reasons to love the Ninja DualBrew Pro, with the ability to choose to use K-cups or coffee grounds. The fold-away milk frother means lattes have never been easier, and the built-in coffee scoop takes out any measuring guesswork. The latest update feels high-tech with a digital touch screen that automatically knows which setting to use, and we're very into the boxy retro design. It doesn't take up much space on your countertop either, which is nice, though you'll want to find a space to store the K-cup adapter when brewing with grounds... but a small price to pay for not needing two coffee units out. The DualBrew Pro Specialty Coffee Maker is like having your own coffeehouse on your kitchen counter.
Homes & Gardens rating: 4.5 out of 5 stars
Best drip coffee maker for coffee, and espresso too
Specifications
Tank size: 32oz.
Pressure: 15 bar
Dimensions: 17.5in x 14in x 12.25in
Warranty: 1-year
Reasons to buy
+
Variety of coffee and espresso options
+
Run both drip coffee and espresso maker at the same time
+
Superb value
+
24-hour programmable timer
Reasons to avoid
-
Wider than a standard coffee machine
The DeLonghi All in One Combination Coffee Maker is your perfect machine if you like to switch up your coffee routine by the day, or even the time of day, for when you crave either a classic cup of coffee or an espresso for a caffeine boost.
Key features
The De'Longhi All in One Combination Coffee Maker conveniently replaces the need for you to invest in both an espresso maker with an advanced milk frothing steam wand and a drip coffee machine. It has a digital touchscreen control, a Bold brew setting, an updated front-loading water tank, and a spillproof glass carafe.
It comes with attachments that allow you to brew up to 10 cups of filter coffee, as well as a portafilter for single and double shots of espresso, and can work both sides of the machine at the same time. And it functions with ESE pods.
Why you'll love it
Two machines in the footprint of one, of course! While the Ninja DualBrew Pro is great for the coffee lover going between single or multiple servings, the Delonghi All in One is built for those who want coffee and espresso home. The espresso side has a 15 bar pressure pump for authentic espressos brewed at the optimal pressure and a steam wand to prepare your favorite lattes. Depending on how familiar you are with the espresso brewing process, it may require a learning curve, but it's so worth it!
Homes & Gardens rating: 5 out of 5 stars
Best drip coffee maker to splurge on
Specifications
Filter type: Paper
Water filter: Yes
Warming plate: Yes
Programmable: No
Cups: 10
Dimensions: 6.5 x 12.75 x 14 in.
Warranty: 5 years
Reasons to buy
+
Tons of color options from metallics to neons
+
Quiet operation and fast brewing
+
Meets SCA and ECBC qualifications for the perfect cup of coffee
+
Drip coffee maker that resembles the pour-over experience
Reasons to avoid
-
Expensive for minimal functions
-
Set up and installing takes a little getting used to
Looking to invest in your coffee machine, or perhaps you're swayed by the striking, boxy design of the Technivorm Moccamaster KBGV Select... either way, you're in for a caffeine-fueled treat with this iconic piece of equipment gracing your countertop.
Key Features
The Moccamaster is another machine that meets the rigorous qualifications set by the Specialty Coffee Association and the European Coffee Brewing Center for making the perfect cup of coffee. It most closely resembles a gourmet pour-over coffee maker experience with its exclusive 9-hole drip arm that ensures even extraction and a smooth flavorful cup of coffee. The KBGV Select offers the additional functionality to choose between brewing a half or full carafe to optimize brewing.
The Moccamaster is entirely handcrafted in the Netherlands, including the unique copper heating element that maintains that your coffee always heats between 196 and 206 degrees Fahrenheit, while the separate hot plate will maintain the glass carafe at temperatures between 175 and 185 degrees Fahrenheit for 100 minutes before shutting off.
Why you'll love it
When we see someone with a Moccamaster in their kitchen, we know they're someone who is very serious about their coffee. Moccamaster coffee makers are also available in a ton of colors from chromatic neutrals to even neons and bold primary hues to suit all design tyes.
Your investment also comes with a lengthy five-year warranty, and should any part start to deteriorate, the machines are made modularly to make it easy and sustainable to replace parts without having to replace the entire machine.
We're also enamored with its extremely quiet operation and can speedily brew a whole 10-cup pot in as little as six minutes. Together, the Moccamaster meets the qualifications set by the Specialty Coffee Association and the European Coffee Brewing Center as the perfect cup of coffee.
Homes & Gardens rating: 4.5 out of 5 stars
6. Braun Brew Sense Drip Coffee Maker
Best value coffee maker
Specifications
Cups: 12
Dimensions: 17 x 13 x 11.25 inches
Warranty: 1 year
Reasons to buy
+
Frequently available for under $100
+
Programmable
+
Pure flavor technology ensures your coffee comes out just right
Reasons to avoid
-
No strength or temperature control
The sleek-looking Brew Sense Drip Coffee Maker will look great on your countertop, makes a great cup of coffee, and can consistently be found for under $100.
Key Features
You'll find a lot of flexibility with the Braun BrewSense, with the ability to brew as little as 11 oz. or a full 12-cup carafe. Braun uses pure flavor technology to ensures your coffee is made at the right temperature and brewing time to extract the best coffee flavor and aroma. The machine includes standard features like a brew-pause functionality, charcoal filter, and a cleaning feature that can be customized to different water hardness levels. You have the option to use it's included gold-tone filter, or your paper filters.
Why you'll love it
It makes great-tasting coffee, for one, and has a design that makes it look a lot more expensive than it is. If you're after a basic coffee machine that has everything you need, and nothing you don't, the Braun Brew Sense is a great option. It ticks the boxes for those looking for programmability, water filters, a permanent gold-filter option, a hot plate that shuts off automatically... and sometimes that's all you really need.
7. Cuisinart DGB-900BC Grind & Brew Thermal 12-Cup Automatic Coffeemaker
Best drip coffee maker with a built-in grinder
Specifications
Cups: 12
Dimensions: 8.27" x 11.61" x 16.34"
Warranty: 3-years
Reasons to buy
+
The built-in stainless steel burr grinder
+
Adjustable grind size and coffee strength
+
Programmable
+
Available with thermal or glass carafe
+
Hopper holds a half-pound of whole beans
Reasons to avoid
-
Difficult to clean
-
Interface isn't as sleek as other machines
-
It's large
-
Grinder is loud
It's true that the best-tasting coffee comes from freshly ground beans, and the Cuisinart Grind & Brew perfectly grinds the beans for you then delivers piping hot coffee straight into your carafe.
Key Features
The hopper can hold up to 1/2 lb. of whole beans and has a completely sealed design to keep your beans from connecting with air. When brewing, you'll select a strength option, and the number of cups, and the machine automatically dose the correct amount of beans to use with a stainless steel burr grinder. Once brewing is complete, it'll stay hot in the thermal carafe for up to 8 hours, though a glass model with a hot plate is also available. It's also fully programmable and comes with a charcoal water filter. You can also turn off the grinding feature if you want to use pre-ground coffee.
Why you'll love it
Grinding is a very important part of getting delicious coffee, but it sure is nice when a coffee maker can do it for you, and take out a step, and perhaps another small appliance in your kitchen. Coffee will never have tasted fresher.
Things to note
As this Cuisinart Grind & Brew includes some more complicated components than a standard coffee maker, it does have a more involved cleaning schedule and users report that the grinder is really loud.
8. Nespresso Vertuo Next Coffee & Espresso Machine by Breville
Best single-serve drip coffee maker
Specifications
Tank size: 37oz.
Dimensions: 16.97in. x 5.5in. x 12.52in.
Warranty: 1 year
Reasons to buy
+
Makes coffee and espresso
+
Made with sustainable materials
+
Can brew five different cup sizes, plus an 18 oz. carafe
+
Can be purchased with or without milk frother
+
Many color options
Reasons to avoid
-
Pods create waste
-
Smaller pod capacity
Nespresso remains one of the most popular pod coffee brands, and Nespresso's Vertuo Next brews up both delicious coffee and espresso at the touch of a button.
Key Features:
At 5.5 inches, the Nespresso Vertuo Next can easily fit into tight spaces... it's also made of a 54 percent recycled plastic body that doesn't skimp on color options. The 37oz. water tank capacity is enough to get you through a few espressos before having to refill.
The Vertuo system is not quite a drip brewing method. Rather, the machine uses a Centrifusion brewing system to extract its flavor, which results in a beautiful crema layer. Vertuo also uses technology to deliver the optimal cup, taking into account cup size, pressure, brewing time, and temperature by scanning a barcode on each capsule.
Why you'll love it
Who wouldn't love delicious coffee just popping in a pod? With 16 standard coffee blends and dozens of specialty recipes, you're unlikely to grow bored with the numerous flavors available to you to try. And when paired with the Nespresso Aeroccinno, you can have lattes at home within minutes.
Unlike other Nespresso models, the Next can also brew an 18oz. carafe for when one cup isn't enough, as well as the standard 5oz., 8oz., and 14oz. options and single and double espresso shots.
Homes & Gardens rating: 4.5 out of 5 stars
9. Smeg DCF02 Drip Filter Coffee Machine
Best retro-inspired drip coffee maker
Specifications
Cups: 10
Dimensions: 14.25"H x9.75"L x 10"W
Warranty: 1 year
Reasons to buy
+
Makes a really good coffee
+
Excellent filter
+
Eight color options available to match with other Smeg appliances
Reasons to avoid
-
Bulky 'small' design
-
A little tricky to fill up the water tank
A small kitchen appliance needs to contribute to the design of your kitchen as much as it functions to you. Smeg's retro Drip Filtered Coffee Machine is a continuous favorite among the stylish coffee-sipping crowd, and it's available in eight colors to match any other Smeg appliances you're lucky enough to collect.
Key Features
Beyond good looks, Smeg's Drip Filtered Coffee Machine can make up to 10 cups of coffee, is programmable and has a glass carafe design with a hot plate that will keep coffee warm for 60 minutes. You'll also find an intensity option as well as the ability to adjust according to your local area's water hardness.
Why you'll love it
This drip coffee maker does exactly what is intended: makes a smooth drip coffee. It's also easy to clean and maintain. If you're already a Smeg fan, well then, that also makes it a no-brainer.
Homes & Gardens rating: 4.5 out of 5 stars
---
How to choose the best drip coffee maker for you
Choosing a coffee maker is not a one-size-fits all experience. The coffee makers on our list all make great coffee, but the best coffee maker for you comes down to considering your priorities... and maybe you can find something that has everything you want.
Capacity:
Most drip coffee makers will typically brew up to 10 or 12 cups. A coffee cup is considered four ounces, so these machines will typically havewater tanks up to 60 oz.
Single-Cup Brewing:
A major trend right now is the growing compatibility to brew a single-cup of coffee, without the need to brew a whole carafe. Many coffee makers have settings that will allow you to brew 1-4 cups and still maximize the experience, which is usually about enough coffee to fill a travel mug.
Size:
Not all of us have space for hulking, industrial-sized coffee makers, and that's ok! If you're tight on space, you may want to consider a coffee maker that has a smaller footprint and greared toward smaller spaces. Additionally, consider where you will be storing the coffee maker and if any overhead cabinets will interfere with use.
Thermal vs Glass Glass Carafe:
There are two types of people in this world, those who like thermal carafe designs, or those who'd rather use a glass carafe with a hot plate, and most coffee makers make each model with either option. Thermal carafe designs are usually more expensive, are durable if dropped and will keep coffee hotter for longer. Glass carafes are more fragile, but less likely to interfere with the taste of your coffee, like stainless steel can, and will be accompanied by a hot plate. If your model has a hot plate, consider how long it keeps coffee warm and whether it shuts off automatically. Sometimes, hot plates can burn the coffee is left sitting too long.
Strength & Temperature Settings:
Everyone takes their coffee so differently, it's convenient be able to switch from mild to bolder settings, as it the ability to change the temperature of your brew to your exact specifications.
Programmability:
Some coffee machines will let you schedule your coffee maker up to 24 hours in advance.
Water filter:
Some coffee makers have compatibility with various water filters so you can fill-up straight from the tap as opposed to a purified water source.
Removable water tank:
It's usually considered a nice feature to have to make it easier to fill the machine, but definitely not necessary.
Filter Basket type:
Coffee makers typically use paper filters that you'll need to remember to stock (and select the right size) or a permanent gold-tone filter. Paper filters usually brew a smoother coffee, while sediment is more likely to flow through the permanent filters, which is a more European style way of drinking coffee. Paper filters can be quickly disposed of, but permanent filters will need to be cleaned following each use.
Special features:
A growing number of machines feature nice extras like built-in milk frothers or grinders. They're very convenient, but still not as good as the real thing.
How to clean a drip coffee maker?
Cleaning a coffee machine that uses ground coffee is a messy, unavoidable chore. Paper filters are nice in that they can promptly be dropped into the compost -- as coffee grounds are extremely useful in the garden -- with a quick rinse to the filter basket, while gold-tone permanent filters do require a more rigorous cleaning.
Removable parts, like the brew basket, can be washed with soapy water and it's fine to wipe down machines with a damp cloth. On some machines, there may even be dishwasher-safe parts.
Typically, when it comes time to descale, your machine will let you know as well as detail their descaling process in the manual, which usually entails a descaling solution or vinegar mixed with water.
Jaclyn is an eCommerce editor at Future Home Interest, and scouts out the best of the best for buying guides to help you fill your home with housewares you will love. She joined the team in January 2021. She has previously worked with Apartment Therapy, The Kitchn, The Spruce, The Spruce Eats, and MyDomaine. When Jaclyn's not working, she loves browsing real estate listings, unwinding with a chilled glass of Rosé, and entertaining her Cavapoo puppy, Reese.