Best coffee makers: 9 top-performing coffee machines to hone your barista skills at home
Explore the best coffee makers encompassing machines designed for espresso, drip, and manual brewing methods.
Included in this guide:
1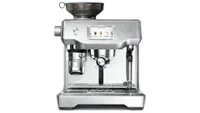 Breville
BES990BSS The Oracle Touch
2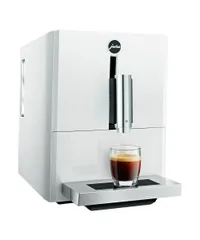 Jura
A1 15171 Bean To Cup Coffee Machine
3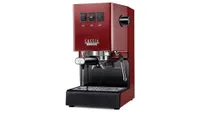 Gaggia
Classic Pro Espresso Coffee Machine
4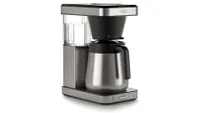 OXO
8 Cup Coffee Maker
5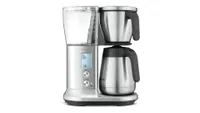 Breville
Precision Thermal Viewer
6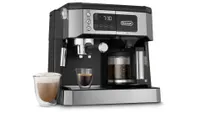 De'Longhi
All in One Combination Coffee Maker
7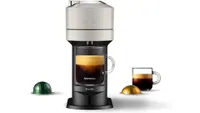 Nespresso
Vertuo Next Coffee & Espresso Machine with Aeroccino by Breville
8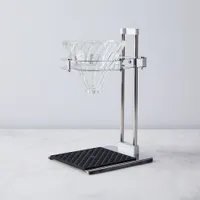 Hario
Original V60 Pour Over Dripper and Stand
9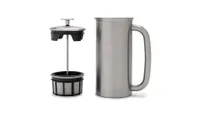 Espro
P7 Coffee Press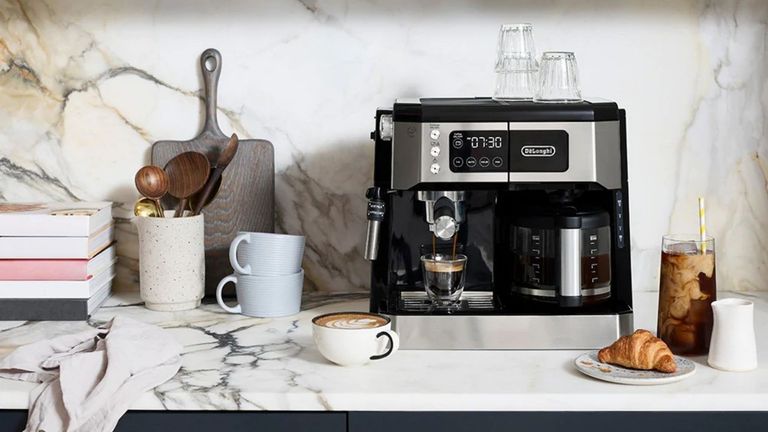 (Image credit: De'Longhi)
The best coffee makers bring out the flavor and aromas of your favorite beans without ever having to leave your home.
No matter if you're looking for liters of drip coffee to kick start your day, an elegant Italian Espresso to finish a meal, or an indulgent flat white, we've chosen the finest home coffee machines.
At the top of the list are the latest bean-to-cup machines that do everything from grind, brew, froth, and clean at a touch of a button, pod designs continue to be popular, offering a quick, convenient route to a quality cup, while manual models give you a chance to practice your barista skills. Be sure to pair your new coffee maker with the best milk frother to take your coffee drinks to the next level, for delicious lattes and cappuccinos at home.
Prefer a blitzed drink that is perhaps cold and fruity instead? No worries: our best blender guide has plenty of options for crushing ice and making smoothies and soups.
The best coffee maker buys of 2021
1. Breville BES990BSS The Oracle Touch
Best coffee maker for big budgets
Specifications
Tank size: 84oz./ 2.5ltrs
Bean hopper capacity: .5lb./ .23kg.
Pressure : 15 bar
Dimensions: 14.8in x 15.5in x 17.8in/ 37.3cm x 39.2cm x 45.4 cm
Warranty: 2 years
Reasons to buy
+
Stylish design
+
Twin boilers
+
Color screen
+
Professional components
While The Oracle Touch looks like the sort of machine you need a qualification to use, it is in fact the exact opposite, offering advanced automation and professional results at home.
It features dual stainless-steel boilers, meaning you can grind and brew a coffee while also steaming milk, a feature usually only available on commercial machines, enabling you to serve up a variety of beverages for a crowd. The boiler is also extremely hi-tech and can control the espresso water temperature to within +/- 2°F.
To make a coffee you do need to be involved however as it's not a vending machine. Once you've chosen your drink from the touchscreen (choose from espresso, long black, latte, flat white, or cappuccino options) you place the portafilter under the grinder and it grinds, measures the perfect 22-gram dose and tamps for you. Transfer the portafilter to the middle and the boiler extracts the best possible espresso.
And there's no skill needed to create the ideal micro-foam and milk, just fill the jug, place it under the wand and it selects the perfect temperature and consistency for the drink you want.
Be warned though, it's a large and heavy (37.2lb.) machine and may struggle to fit under standard wall units on a countertop.
*Note: In the UK, Breville is sold under the name Sage
2. Jura A1 15171 Bean To Cup Coffee Machine
Best coffee maker for black coffee lovers
Specifications
Tank size: 37oz. / 1.1ltr.
Pressure: 15 bar
Dimensions: 12.5in x 9.5in x 17.4in / 32cm x 23.9cm x 44.5cm /
Warranty: 2 years
Reasons to buy
+
Uses beans or ground coffee
+
Consistent results
+
Adjustable grinding
Reasons to avoid
-
Can't brew two coffees at once
-
Limited options
Taking as little as 25 seconds to prepare a restaurant-quality coffee the Jura A1 is a stylish bean-to-cup machine that does just three things brilliantly; it brews an exceptionally good espresso, ristretto, and lungo.
It doesn't come with a steam wand, so you'll need to invest in a separate frother for flat whites, but it is a hugely impressive design if you prefer your drinks black.
Each drink comes served at the perfect temperature, as intelligent pre-heating retains the ideal heat level for extracting maximum flavor from the beans.
You can adjust the volume of longer coffees to fill your favorite mug, the grinder can be manually adjusted to finer or coarser, to suit the degree of roast of your coffee, and it has both an energy-saving and automatic cleaning mode for ease of use.
It is expensive for a model with a limited repertoire, but what it does produce is better than the competition.
3. Gaggia Classic Pro Espresso Coffee Machine
Best coffee maker for an authentic espresso experience
Specifications
Tank size: 71 oz. / 2.1 ltrs.
Pressure: 15 bar
Dimensions: 9in x 15in x 9.5in / 23cm x 38cm x 24cm
Reasons to buy
+
Slim design
+
Professional components
+
Delicious espresso
Reasons to avoid
-
Very manual
-
No timers
-
Switching between brewing and steaming takes time
Designed and made in Italy – where they know a thing or two about good espresso – The Gaggia Classic Pro has something of a cult following from coffee aficionados who love its ability to make the finest espresso with the minimum of fuss, and almost no frills.
The Gaggia Classic Pro is for those who take coffee seriously, and importantly, love the manual approach to making it. If that's you, you'll be in heaven.
Compact, heavy, and clad in brushed stainless steel with high-quality chromed copper components, this is a coffee machine that will serve you loyally for years. It features a commercial-sized 58mm filter and steaming wand. It's also available in six colors to match your style, or blend into your kitchen.
The boiler takes just 45 seconds to heat and makes great espresso – assuming you've ground the perfect beans that is. Creating steam is also super quick, with the boiler producing a powerful jet of steam. However, the machine is powered by a single boiler, so it does take a minute to switch between the two.
With just three buttons – one is the power switch, one is for coffee, and one is for steam – and a dial on the right-hand side for steam delivery – it's the simplest of designs, but one that, with practice, will produce the finest results.
4. OXO 8 Cup Coffee Maker
Best drip coffee maker that mimics the pour-over experience
Specifications
Cups: 8
Dimensions: 13.5" x 10.5" x 7"
Reasons to buy
+
Brew a single cup or a full carafe
+
BetterBrew precision brewing meets SCA Golden Cup Standard requirements
+
Space efficient
Reasons to avoid
-
Water tank isn't removable
-
Not programmable
OXO forgoes complicated settings and instead focuses solely on the coffee. The OXO 8 Cup Coffee Maker is one of the few at-home coffee makers that meet the Specialty Coffee Association's Golden Cup Standard, meaning that it reached the association's standards for water quality, coffee-to-water ratio, grind/particle size distribution with a temperature between 195 and 205 degrees, and a brewing time of fewer than 8 minutes for the best cup. The OXO brews a whole pot in less than six.
Operation is incredibly simple and involves pressing just two buttons: the full-carafe (or 1-4 cups) button and power. OXO's BetterBrew™ precision brewing system controls water temperature, water volume, and brewing time, all of which contributed to its Golden Cup Standard rating. The rainmaker showerhead evenly distributes water over the grounds. The OXO uses a leak-proof double-wall, vacuum-insulated thermal carafe that keeps your coffee's temperature without the need for a hot plate, which could burn the coffee.
Another attractive detail includes the ability to brew a single cup with the included optional single-serve accessory to enhance the flavor of one-mug brewing. No pods required!
We also love its slim profile that can tuck into small spaces. The water tank, however, is not removable and does not include a filter.
Consider our selection of the best drip coffee makers required reading, if you're looking for easy, fuss-free coffee and lots of it.
Best coffee maker for coffee perfectionists
Specifications
Cups: 12
Dimensions: 12.4" x 6.7" x 15.7"
Reasons to buy
+
Beautiful design and slim shape
+
6 preset brewing modes
+
2 filter baskets
+
Temperature control
+
3 flow rates
+
LCD screen
+
Stainless steel carafe
Reasons to avoid
-
Expensive
-
Water tank is not removable
True coffee lovers who love the idea of getting to experiment with their coffee will have their routines forever transformed with Breville's Precision Thermal Brewer.
The coffee maker has six pre-set brewing modes, including Strong, Gold (meets SCA requirements for a Golden Cup Standard), Fast, Over Ice, and Cold Brew, but the real magic is you can even customize (and save) settings for temperature, bloom speed, and flow rate. Everything is precisely down to your desired specifications, and it's easy to operate with the LCD screen and control dial. It's programmable too, so you can set it to start brewing before you wake up.
The machine itself is made with quality stainless steel parts for added durability. It uses a Thermo Coil Heating System that delivers water that is purer than typical brewing systems that use aluminum. In addition, the thermal carafe keeps the coffee hot for a longer time. Depending on the amount of coffee you choose to brew (up to 12 cups), there are also two filter baskets: a cone-shape and a flat-bottom filter, which is recommended to use when brewing more than 8 cups.
The coffee maker itself is not cheap, but the price reflects the materials, advanced technology, and customization features. 100% worth it.
6. De'Longhi All in One Combination Coffee Maker
Best coffee maker for variety
Specifications
Tank size: 32oz.
Pressure: 15 bar
Dimensions: 17.5in x 14in x 12.25in
Warranty: 1-year
Reasons to buy
+
Variety of coffee and espresso options
+
Run both drip coffee and espresso maker at the same time
+
Superb value
+
24-hour programmable timer
Reasons to avoid
-
Wider than a standard coffee machine
If you're the type of person who loves a cappuccino over breakfast, filter coffee during the day, and an espresso mid-afternoon to keep you awake, the DeLonghi All in One Combination Coffee Maker is your perfect machine.
It comes with attachments that allow you to brew up to 10 cups of filter coffee, as well as a portafilter for single and double shots of espresso. Even better, you can accomplish both at the same time. And it functions with ESE pods.
The De'Longhi All in One Combination Coffee Maker conveniently replaces the need for you to invest in both an espresso maker with an advanced milk frothing steam wand and a drip coffee machine, though it is particularly wider on your countertop than a typical drip coffee maker to accommodate for the dual settings. Recent additions to the latest edition include a digital touchscreen control, a Bold brew setting, an updated front-loading water tank, and a spillproof glass carafe.
As a manual espresso machine, you'll need to use the portafilter and tamper just like a barista, and while it takes practice to steam milk like a pro, the results are impressive.
7. Nespresso Vertuo Next Coffee & Espresso Machine with Aeroccino by Breville
Best single-serve coffee maker
Specifications
Tank size: 37oz.
Dimensions: 16.97in. x 5.5in. x 12.52in.
Warranty: 1 year
Reasons to buy
+
Smallest Nespresso maker yet
+
Made with sustainable materials
+
Can brew five different cup sizes, plus an 18 oz. carafe
+
Can be purchased with or without milk frother
+
Many color options
Reasons to avoid
-
Pods create waste
-
Smaller pod capacity
With 16 standard coffee blends and dozens of speciality recipes, plus the countless third-party pods now available, Nespresso remains one of the best pod coffee brands, and Nespresso's latest iteration of its Vertuo line is slimmer, more sustainable and has more options than ever.
At 5.5 inches, the Nespresso Vertuo Next can easily fit into tight spaces, but we're pretty sure you'll want to show it off and boast about its 54 percent recycled plastic body that doesn't skimp on color options. At this size, the Nespresso Aerocinno milk frother is a separate component that can also be left on the counter beside it or stowed away in a cabinet when not in use.
The 37oz. water tank capacity is enough to get you through a few espressos before having to refill, but the pod capacity is 8, which is less than most Vertuo models.
The magic of the Vertuo system and it's one-touch brewing technology is how the machine is able to scan a capsule specific barcode to deliver the optimal in-cup, taking into account cup size, pressure, brewing time and temperature. Rather than utilizing bar pump pressure, the Nespresso Vertuo uses a Centrifusion brewing system to extract its flavor. Together, this technology helps develop a perfect, silky crema.
Unlike other Nespresso models, the Next can also brew an 18oz. carafe for when one cup isn't enough, as well as the standard 5oz., 8oz., and 14oz. options and single and double espresso shots.
For when you quickly want the perfect cup of espresso or coffee for one, without the fuss, and at the touch of a button, Nespresso is the way to go.
8. Hario Original V60 Pour Over Dripper and Stand
Best Pour Over Coffee Maker
Specifications
Tank size: 37oz.
Dimensions: 5in. x 5in. x 8.86in.
Warranty: none
Reasons to buy
+
Aesthetically pleasing
+
Full control over coffee drinking experience
+
Dishwasher safe glass
Reasons to avoid
-
Requires an additional heat source, like a hot water kettle
-
Glass carafe is thin, prone to cracking if not careful
-
No warranty
When it comes to the art of pour-over coffee, we look straight to Japanese coffee and tea accessories company, Hario. For those who rattle off coffee as one of their hobbies, you'll be sure to have this Hario Original V60 Pour Over Dripper and Stainless Steel Stand, for lazy Sunday mornings when you want to put on a show, and watch your coffee truly bloom. The manual effort of pour-over coffee offers complete control over brewing time and temperature, so your coffee is prepared exactly the way you like it.
This lovely package includes a gorgeous conical glass dripper, that rests atop a stainless steel frame, and drips into a glass server, that fits about 20oz. or 600ml. The set also includes 100 coffee filters to get you started and a stainless steel measuring spoon for your finely ground of fee.
The glass dripper is the real show-stopper of the display, while other stands are available to suit a variety of tastes, through Hario, and third-parties, as the V6 shape, has become regarded as a uniform shape and size.
Users have commented how the glass of the accompanying glass server is thinner and more delicate than its dripper counterpart. Both pieces are dishwasher safe, but should always be handled with care.
If you've never used a pour-over coffee maker before, you slowly pour boiling water in an even spiral through the dripper, lined with a filter, and filled with finely ground coffee. As the coffee gets saturated, its aroma will bloom and the beans will appear to bubble up before a smooth blend drips into the glass carafe. Some pros will also use a scale to help them get the perfect ratio of coffee to water.
9. Espro P7 Coffee Press
Best French Press
Specifications
Capacity: 32 oz.
Dimensions: 6.3in x 4.8in. x 10.5in.
Warranty: Lifetime
Reasons to buy
+
Excellent heat retention
+
Smooth, no grit
+
Dishwasher safe
A French press without a doubt brings out the fullest flavor of your coffee, enhancing its taste and strength. That's why we're drawn to the stainless steel Espro P7 Coffee Press. It features an unique double-walled insulation that can retain the temperature for up to an hour, perfect for slow sippers, and is more durable against drops and use than ceramic and glass counterparts. However, you also lose the ability to see the French press at work.
Espro is renowned for its dual micro-filters, which help enjoy the full flavor and aroma of French press coffee without any of the grit. Double the filters mean double the smooth. A vacuum seal ensures a more even extraction. It has an easy twist-lock operation for separation and cleaning.
For tea drinkers, the P7 is also able to press tea as well.
French press makers are best used when not in a rush, as the hot water must sit for four minutes before you can press it with the coffee. The results, however, are well worth it, and you can be sure your coffee won't lose its temperature thanks to the P7's superior heat retention.
---
How to choose the best coffee maker for you
Before you buy, consider what sort of coffee you and your family actually enjoy drinking.
An all-comprehensive bean-to-cup model will grind fresh beans from scratch for example, and we promise you'll notice the difference in freshness in the flavor.
Machines that only use ground coffee are generally less expensive, yet still, produce delicious results. You may, however, want to keep a coffee grinder on hand, if you're partial to buying whole beans.
Compared to the more expensive automatic espresso maker designs, manual espresso makers take practice but offer more precision and control.
If however, you prefer classic filter coffee rather than espresso or lattes, an affordable carafe design will make fresh coffee, and keep it warm with the minimum of fuss.
Single-serve or pod machines promise mess-free real coffee in convenient single-cup servings, and while they generally produce quality espresso, they generate create quite a lot of waste compared to buying a simple bag of coffee. Additionally, you can look into reusable pods that you pour your own coffee grounds into.
Finally, true coffee aficionados who want complete control over their coffees, from brew time to water temperature, will want to try the French Press or Pour-Over methods for an experience, that is best described as truly gourmet.
How much should I spend on a coffee maker?
We've found excellent coffee machines costing anywhere from $100 and $3000, but as a general rule, the more you spend the better the machine will be, especially in terms of longevity, quality of parts – especially if it has a built-in grinder – and ease of cleaning.
Pod coffee machines are generally quite affordable, but the pods themselves tend to cost more per serving than using typical grinds.
If you want to make quality coffee at home, we think you should aim to spend at least $200, but given how much a flat white in a café costs, your machine could easily pay for itself in just a few months.
If you love real coffee, you're going to need a quality coffee machine. If you love instant coffee or tea all you need is a spoon and a kettle, but for specialty coffees with Barista flair, a model that has a high-pressure boiler that can extract espresso with a lovely crema layer on top is a must.
Bean-to-cup designs offer the freshest brews. By grinding exactly the right amount of beans for your chosen drink you'll extract more flavor from your favorite roasts.
How easy is a coffee maker to clean?
Cleaning a coffee machine that uses ground coffee is a messy, unavoidable chore. As well as regularly emptying the grounds and drip-tray, you'll need to clean the milk wand and jug, plus it's advised to have regular deep cleans using specific coffee machine cleaning products and de-scale to avoid any problems from hard water.
Jaclyn is an eCommerce editor at Future Home Interest, and scouts out the best of the best for buying guides to help you fill your home with housewares you will love. She joined the team in January 2021. She has previously worked with Apartment Therapy, The Kitchn, The Spruce, The Spruce Eats, and MyDomaine. When Jaclyn's not working, she loves browsing real estate listings, unwinding with a chilled glass of Rosé, and entertaining her Cavapoo puppy, Reese.