About us
The art of living beautifully...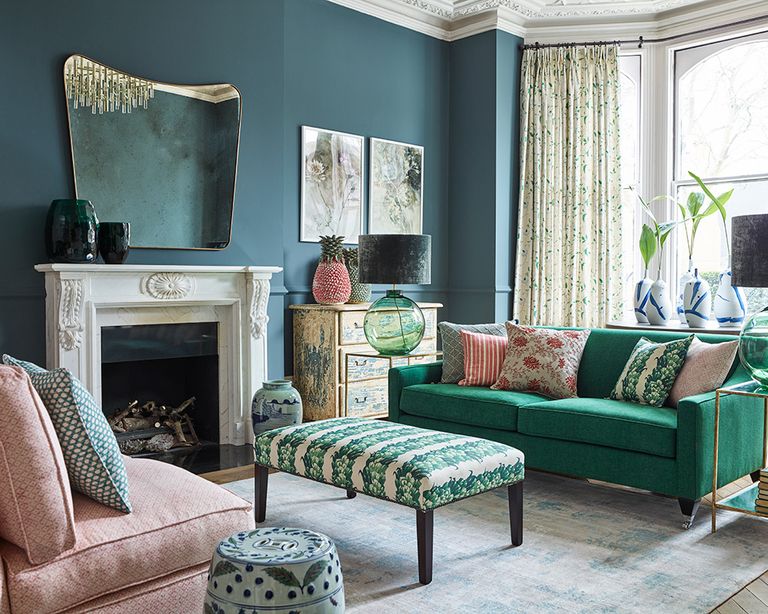 (Image credit: Chris Everard)
As the UK's first-ever home interest magazine, Homes & Gardens has been shaping British style for 100 years.
Our core pillars are inspirational interiors, stylish decorating, beautiful gardens and fascinating stories. With the values of timeless style and considered elegance at our heart, we show an affection for heritage whilst also championing the future, from emerging designers to latest trends.
Every month, the print edition features fabulous houses, seasonal ideas, desirable products, designer sources and insider insight.
Our website brings all our beautiful content online, with a focus on stunning room ideas, while you can join our social community for the latest news, moments of seasonal beauty and a glimpse behind the scenes.
Meet the team
Of course, we've assembled a cracking team of experts in their fields to deliver all this stunning inspiration to you, and we'd love to introduce them...
Lucy Searle, Editor in Chief
I have written about interiors, property and gardens since 1990 when I started my first job at a magazine for the over 50s (that age seemed a long way off back then, and people were still regarded as old... an attitude that seems particularly alien now).
I spent the early part of my career working my way around the homes departments of women's magazines before switching to interiors-only titles in the mid-nineties. I was houses editor on Your Home, associate editor on Ideal Home, and launch editor of 4Homes for Channel 4.
I took a short break to have my second daughter, and was then invited to launch and run Channel 4's flagship website, Channel4.com/4homes where, for five years, I worked closely with the channel's talent, including Gordon Ramsay, Kevin McCloud, Phil and Kirstie, Sarah Beeny and George Clarke, among others. From there, I launched my own social media business and continued to write for websites and interiors magazines.
In 2018, I was invited to take on the role of global editor in chief for Realhomes.com, taking the site from a small magazine add-on to a global success. When Future Publishing took over Time Inc, I was asked to repeat the success of Realhomes.com at Homes & Gardens – taking the website from a small concern to a global audience. I have also taken on the editorship of the magazine, which is a real honour – it's a title I've loved for years. Rest assured, I will continue to evolve the magazine as we rethink how we live in our homes, post-pandemic.
On a personal level, I love to travel – having studied languages at uni I've travelled extensively (and sometimes recklessly, now I look back). I've owned a property in the Old Town in Dubrovnik, Croatia for many years, which is my ideal spot to spend some down time. But, with two children and a dog, skipping off on a trip isn't that easy – and Covid hasn't helped. So, instead I turn my energies to tending my Edwardian home in London, a seemingly never-ending project, with a garden that I never quite gain control of.
Instagram @lucysearle8373
Twitter @LucySearle
Sarah Spiteri, Editorial Director
I am Editorial Director of Homes & Gardens, Livingetc and 25 Beautiful Homes, and I am very passionate about creating beautiful multi-platform brands that deliver engaging editorial content to their audiences.
Although my background is words – I trained in magazine journalism at City University following a masters in English Literature at Edinburgh University – I am a visual person and have a strong opinion on creative direction. Prior to this position, I was working on Livingetc, as Deputy Editor and director of the Style team.
In my role, I work across all our content pillars, so it would be impossible to pick out any one subject as my speciality. I will say that personal experience of complex interiors projects has honed my expertise. I think it's quite hard to write authoritatively about a design challenge until you've faced it!
I love Golborne Road for antiques and vintage finds – particularly Phoenix on Golborne. Jess stocks fabulous original European lighting from early 1900s. I like the lifestyle products and accessories in The Conran Shop, particularly the kitchenalia and linens. All the furniture made by Carl Hansen & Son is divine; I feel a frisson of joy every single time I sit in one of my Colonial armchairs. Fashion-wise, it's the small boutiques on Westbourne Grove. And Smallable, Stella McCartney Kids and Caramel for my little girl.
Rose Uniake inspires me; she has a delightful touch. I like the playfulness of rooms by interior designers Beata Heumen and Sophie Ashby. In fact, I have something of an army of design heroes. I like Joseph Dirand, Jacques Granges, Hans Wenger... I love art by Chagall and Howard Hodgkin.
I don't like a lot of stuff or clutter – I like simple, well-curated rooms with a few very beautiful pieces of furniture or details. I believe it's important to give items space.
Jennifer Ebert, Digital Editor
Hello. I am the Digital Editor of Homes & Gardens online. My adoration and love for interiors started many years ago, and before starting this position I had completed various short courses at KLC Design School, as well as working across Ideal Home, LivingEtc, 25 Beautiful Homes, Country Homes & Interiors, and Style at Home.
When the opportunity to work on such a prestigious, influential brand came up, I just couldn't pass up on the offer. Homes & Gardens is the most beautiful and inspirational home interiors magazine, and what better year to launch than during its glorious centenary year.
I absolutely adore Rockett St George for eclectic, quirky finds that are guaranteed to make a statement. And, Liberty London for beautiful fabrics, high-end fashion and luxury beauty.
I also collect fashion illustrations; Blair Breitenstein, Rosie McGuinness, Cecilia Carlstedt and Manuel Santelices are my go-to artists. And, I have recently fallen head over heels for Fabled Thread Embroidery Kits. Though my sewing skills leave much to be desired.
I have always admired the work of florists Aesme. The sisters create unique whimsical arrangements using home-grown and foraged flowers and foliage. Another favourite is Lucinda Oakes. Her paintings and hand-crafted silks are simply magical.
Botanical and animal motif designs are personal favorites of mine. Imagine living in a house where the décor makes you feel like you are on holiday all the time? Dreamy!
My perfect space would be a grand Georgian property somewhere in the South of the country. Georgian homes are some of the most desirable properties on the market, and it is easy to see why. It is an architectural style that I admire greatly.
In terms of design, my style varies wildly from anywhere between classic design to modern farmhouse simplicity. If I could give one piece of renovation advice, it would be to stay true to your buildings' roots. I think it is hugely important to pay homage to your existing structure – and make the most of original features –in a sympathetic way. If I could pick one interior designer to redo my home, it would be Beata Heuman. Her classic yet quirky interior choices are unparalleled.
Instagram @jenniferwriteswords
Twitter @jenlebert
Jo Bailey: Deputy Editor, Homes & Gardens magazine
Jo is Deputy Editor of Homes & Gardens magazine. Before joining Future Plc, she worked as an interior stylist and set designer, specialising in editorial and commercial photo shoots as well as installations, exhibitions and events. Her background within this field means she has a particular interest in the creative ways to make a house a home, as well as hunting down the best places to source beautiful things.
Instagram: @jobaileygram
Lindsey Davis: Ecommerce editor-in-chief, Future Homes
I made my first foray into writing about homes seven years ago when I joined the Homebuilding & Renovating team as web editor. In 2015 I was asked to also look after Real Homes' predecessor Realhomesmagazine.co.uk and the Period Living website which has now found a new home on Homesandgardens.com. In 2020 we invited a host of successful interiors brands to join us here and Future and I now oversee product content for them all.
When I bought my first house seven years ago my love of interiors suddenly became a lot more hands on. It is an ongoing project but I have put our advice to good use, tiling a bathroom wall and converting my loft.
I love the simplicity and cosiness of Scandinavian interiors so most of my home is painted white and accessorised with textiles, wood and colourful accessories. That said, I am a big fan of dark inky colours, so painted a wall of my lounge the deepest, darkest green I could find (a low budget version of Farrow & Ball Studio Green). I live in a Victorian cottage so I have decorated in a way that lets the period features do the talking, without the place feeling like a living museum.
Instagram @elledee20
Twitter @Lindsey_E_Davis
Rebecca Knight: News Editor
I'm the News Editor on Homes & Gardens covering everything from the common mistake you're making when decorating a room, to handy tips about how to sell your home to hunting down celebrity homes. I have been covering all things homes and gardening for two years across Homes & Gardens and Ideal Home. There isn't a single trend that passes without me knowing about it.
Ailis Brennan, Digital Writer
Ailis started out at British GQ, where a month of work experience turned into 18 months of working on all sorts of projects, writing about everything from motorsport to interiors, and helping to put together the GQ Food & Drink Awards.
She then spent three years at the Evening Standard on the GO London team, covering restaurants and bars, and getting to eat and drink a veritable smorgasbord of wonderful things around the city. She left the paper in 2020 and went freelance, writing about food, drink and homes for publications including Conde Nast Traveller, Luxury London and Departures.
A little less than a year later, Ailis started at Homes & Gardens as a Digital Writer, allowing her to fully indulge her love of good interior design.
Rachel Crow: Senior Content Editor
I am Senior Content Editor on homesandgardens.com and write and commission garden content for Homes & Gardens magazine, and its sister titles Period Living Magazine and Country Homes & Interiors.
I was previously Content Editor on Period Living for 10 years, and before that freelanced for many years, working across a range of content pillars and covering a plethora of topics ranging from interiors, gardening, history and arts and crafts, to wildlife.
I love the variety of my work and the fact I learn something new every day. Gardening, in particular, is a lifelong journey of discovery, and nature has a wonderful way of acting in new and unexpected ways when you thought you could predict it!
There is always some new plant, cultivar, technique, planting idea, or top tip to stumble across. In the words of Cicero: 'If you have a garden and a library, you have everything you need.'
Emma Thomas: Style Editor, Homes & Gardens magazine
Emma is the Style Editor at Homes & Gardens and Living Etc magazine, looking after the decorating features. Before joining Homes & Gardens in 2014, Emma worked for over 20 years mainly as a freelance interior stylist and art director producing photo shoots for many editorial titles and commercial clients, including Elle Decoration, Living Etc (Emma worked on the launch issue back in 1998!), Habitat and The White Company, to name but a few.
Annie Collyer: Deputy Ecommerce Editor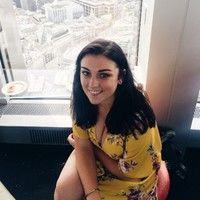 I've been at H&G's parent company, Future, since 2018 and now I'm the Deputy Ecommerce Editor. I spend a lot of my time testing products – from exercise bikes to candles – but mostly I'm talking to industry experts, PRs and company marketing departments to try to ensure that we're always featuring the very best deals on all the products our readers would expect to see. As for my love of interiors, a couple of years ago I moved into a flat with my boyfriend and my love of all things decorating/DIY and smart home has grown from there. When I'm not shopping online for new homeware I'm usually snapping photos of my house for Instagram, or just *casually* moving furniture around.
My interior style is... Skandi mixed with boho. My house has white walls, wooden flooring and pops of colour dotted around. I usually go for mustard or burnt orange, as autumn is my favourite time of the year. I'm a little obsessed with cushions and tend to over-purchase them, so my six-seater sofa is basically impossible to fit on.
Instagram @anniecollyer
Millie Fender: Ecommerce Editor
I've been writing for Homes & Gardens since the beginning of 2021, covering all things product-related. A lover of al fresco dining, I'm always on the hunt for the best barbecues and pizza ovens for entertaining friends and family. I'm also a firm believer that everyone should have their own herb garden, and can often be found taming my over-zealous rosemary plant.
Caroline Preece: Ecommerce Editor
I have worked on Homes & Gardens with the ecommerce team since the start of 2021, bringing my background in technology and enthusiasm for interior design with me. I'm passionate about incorporating smart devices into the home without compromising on style, and my own interior design style has evolved over the years to reflect this.
I work across the site on reviews and buying guides, offering expertise on all of the devices and gadgets that readers might want to try out in their space, all whilst hunting for the perfect smart speaker for every room of my own home.
Brittany Romano: US Online Shopping Editor
My first job right after college was as an intern for Kelly Cutrone at People's Revolution, where I learned how to market brands and strike emotions within consumers. Once leaving there — and a few quick stints at MLBAM and the Weinstein Company – I landed at Marie Claire as a marketing assistant. There I discovered my distinct eye and how to cater to different products to specifically targeted demographics.
I continued working my way up the ladder, landing a role as an Editorial Coordinator at Penske Media Company, later leaving to join AMI as a Content Creator. There, I worked alongside all of their top-performing brands including U.S. Weekly and Men's Journal (to name a few). In 2019, at the Awin and ShareASale's ThinkTank 2019 Network Awards, I took home the award for 'Content Strategy of the Year,' after a wildly successful partnership with Allbirds.
Following all of that excitement – and joining Business Insider's team as a contributor – I exited the AMI brands and joined Future as their new U.S. Shopping Editor.
Instagram: @Rammmyyy
Twitter: @brittannnyyy
Jaclyn Turner, US Online eCommerce Editor
I officially joined the Homes & Gardens team in January 2021 to manage buying guide content in the US, keeping tabs on what's new and amazing, and trying those products out too to make recommendations about our top picks. As a savvy, price-conscious shopper myself, I always focus on both quality and value, with a discerning approach. I've previously worked on the commerce teams with Apartment Therapy, The Kitchn, The Spruce, The Spruce Eats, and MyDomaine, covering everything from major sales to new product launches. I credit my love of shopping and design to my mother, who really helped develop those habits at an early age, and now I get to make a living out of it… what could be better?
Instagram @jaclynturner
Megan Slack: News writer
Megan is a News Writer across Future Plc's Homes titles, including Homes&Gardens, Livingetc, and Real Homes. Megan joined the team after a background in news at The Telegraph after completing her MA. She has experience in fashion, travel, and lifestyle journalism, working as Contributing Editor for a gallery-owned magazine after living and working for digital platforms in Paris and New York City. Her adoration for these fashion capitals means she particularly enjoys writing about the latest trends and style pieces.

Megan's interior style is based around vintage pieces - she loves discovering antique gems, including her beloved typewriter. Her decor is also largely influenced by the beauty of the jazz age.

Instagram: @meg.nbs
Anna Cottrell: Online Consumer Editor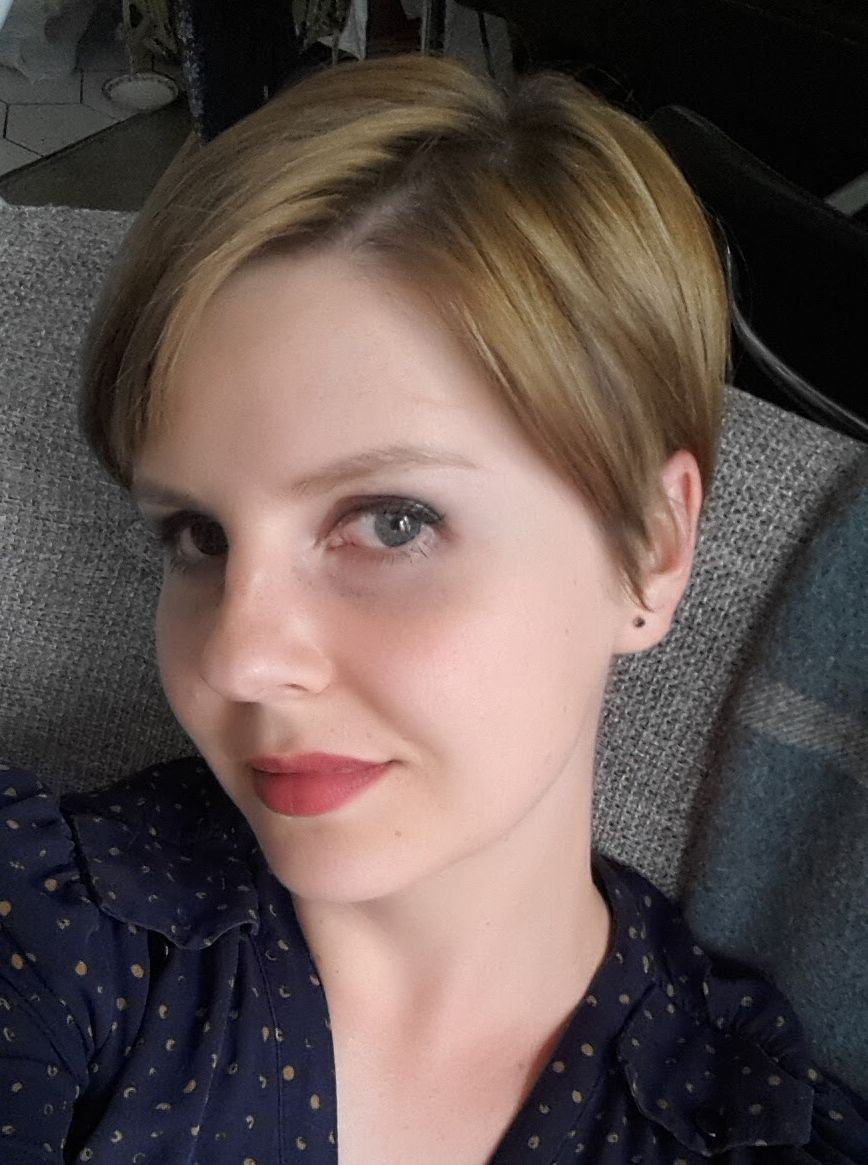 I moved into the world of interiors from academic research in the field of literature and urban space three years ago. I've always been interested in how people make houses into homes, and how our concepts of what's stylish change over time.
On H&G, I specialise in writing about property – buying, selling, renting, mortgages – sustainability and eco issues. These are areas that really interest me and I love nothing more than getting to the nitty gritty of a difficult subject. I rent my home and am always looking at ways to make it cosy without having to do major DIY.
Jennifer Oksien: Online Appliances Editor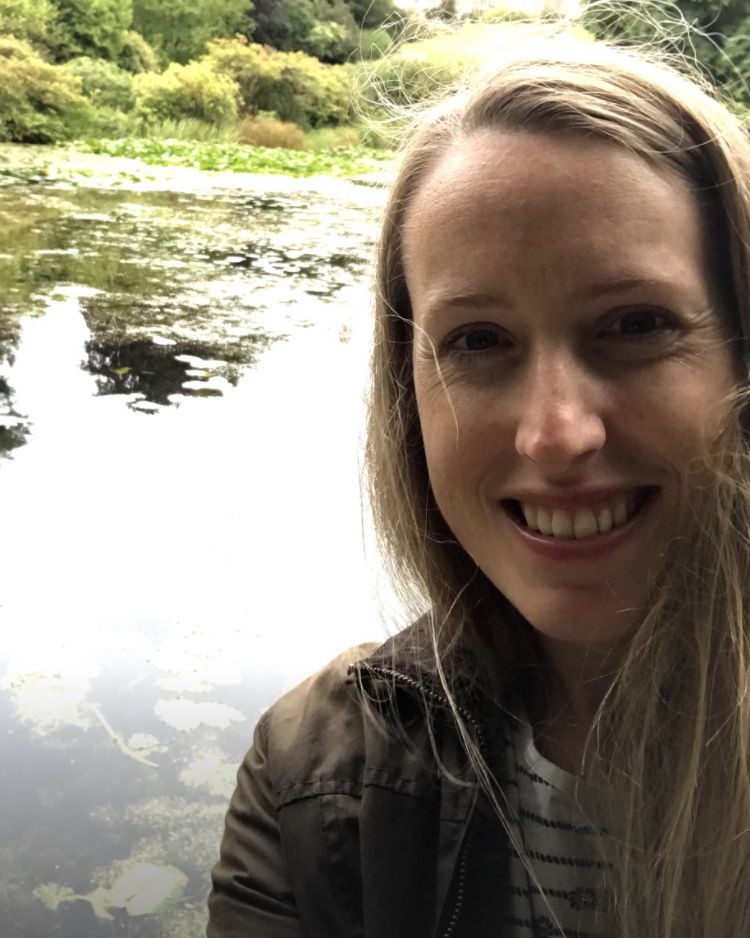 In 2014 I secured the role as a Website Copy Producer for John Lewis (now John Lewis & Partners) in London. It was here that I made the break into tech and appliances; writing those product descriptions we heavily rely on for making informed purchase decisions, and an array of supporting editorial to help narrow down the choices.
After a few years I moved on to dip my toes in life at Future, then manage a small team in a B2B organisation, only to boomerang back to Future and what I love doing; writing about appliances and mattresses. It was meant to be. And the difference with this role as Appliances Editor is that I can put those products I write about to the test so our readers (and I) can buy with confidence when kitting out the home.
Twitter @JennyOksien
Vivienne Ayers: Houses Editor
Interiors have always been my passion – I've been through (and tried!) it all, from Changing Rooms brights to Scandi whites.
After studying English at Leeds University, I moved south and my first jobs were at the Financial Times, followed by Radio Times. I did an interior design course and then landed a job on Homes & Gardens (ironically I'm back there now), before working on other mags such as Country Living, House Beautiful and Ideal Home.
I've always loved reader homes and got a thrill from spotting an amazing house that I knew would be perfect for a magazine (I have been known to knock on the doors of houses with curb appeal!), so I moved from being a chief sub editor to a role as a houses editor, combining my writing and editing skills with styling and art directing on shoots.
I've worked on Country Homes & Interiors for 15 years now, before returning to Homes & Gardens when I took on the houses editor role there three years ago.
What I love most is travelling around the country to shoots and meeting some fabulous people, all of whom I've wanted to stay friends with (although they might have been glad to see the back of me!), as well as being inspired by all the fabulous interiors I've seen, from modern country barns to elegant townhouses. It really is my dream job.
Teresa Conway: Gardening writer
I was part of a team which launched Easy Gardens magazine two years ago and I continue to edit it today. I am also the Gardens Editor on Homes & Gardens, Country Homes & Interiors, Ideal Home and Style At Home so I am lucky enough to see and write about gardening across all sizes, budgets and abilities.
What I am most passionate about when it comes to gardening are the positive effects it has on our mental health to grow and care for plants. Keeping our patches alive with greenery is great for the environment too and help provide food and shelter for wildlife.
Finally, I find it to be such a wonderful opportunity to tap into my creative side and I love the feeling that I am crafting a space which has a life of its own. Audrey Hepburn summed gardening up perfectly when she said - 'To plant a garden is to believe in tomorrow'.
Melanie Griffiths: Editor, Period Living
As editor of Period Living, Britain's best-selling period homes magazine, and H&G's sister title, I love the charm of older properties. I live in a rural village just outside the Cotswolds in the UK, so am lucky to be surrounded by beautiful homes and countryside, where I enjoy exploring.
I am passionate about characterful interiors and heritage-inspired designs, but I am equally fascinated by a house's architectural elements – if I spot an elegant original sash window or intricate stained-glass front door, it fills my heart with joy. It's so important to me that original features are maintained and preserved for future generations to enjoy. My other passion is my garden, and I am slowly building up my planting knowledge, and becoming more confident at experimenting with growing my own.
As well as editing Period Living, I am also co-editing the Country channel of Homes & Gardens. In my previous roles, I have worked on Real Homes and Homebuilding & Renovating, wiriting about modern design and architecture, so my experience is broad – but my heart belongs to period homes.
Pippa Blenkinsop: content editor
Lover of all things vintage, floral and country, Pippa has been working in interiors media for 10 years. A graduate of Art History, and Style Editor for Period Living magazine, she is also a contributing editor to H&G. Pippa is a nostalgic soul who is passionate about historic architecture and traditional craftsmanship. When she's writing about homes and gardens you'll find her pottering on her Gloucestershire allotment, Pippa's Plot, where she grows flowers for styling her own home and interiors shoots.
Laura Crombie: Brand Development Editor
My favourite pastime when I was little was drawing my dream home (complete with marble staircase, swimming pool and stables), so writing about property and interiors felt like my natural calling. En route to joining Real Homes, I was a newspaper reporter, Editor of a regional magazine, and Editorial Manager for a travel company (who doesn't love a free holiday?). I started at Real Homes in 2015 as Deputy Editor and then become Editor before taking on my current position, which focuses on video and events. In case you're wondering, I'm still waiting for that dream home... but these days I'd settle for a pantry and utility room over stables and a pool!
I'd like to say my interior style is simple and elegant, but since our baby daughter came along it's more like a Worcestershire branch of Toys R Us (RIP). I love the textures and pared-back palette of Scandi interiors, but also like to experiment with colours inspired by nature, especially sea blues, foliage greens and sky greys. I think the secret to great style is investing in classic pieces of furniture and then adding colour and personality through artwork and accessories, but I won't be achieving that until mini me leaves home sometime in her mid twenties.
Instagram @lauraccrombie
Rhoda Parry: Editorial Director
With over 30 years of working in journalism on women's home and lifestyle media brands, Rhoda Parry is the Editorial Director, Homes Content, at Future. She is the Team Content Lead for the UK's leading homes and gardens portfolio including Homes & Gardens, Country Homes & Interiors, Livingetc, Ideal Home, Style at Home, Woman & Home, 25 Beautiful Homes, Amateur Gardening and Easy Gardens. Her 22-strong team comprises best-in-the-business editors, writers and stylists that plan and produce content from print to digital, syndication to commercial.
Ginevra Benedetti: Associate Editor
I'm the Associate Editor across the homes titles at Future and have worked for the majority of Britain's monthly interiors titles, such as Ideal Home, Country Homes & Interiors and Livingetc, as well as for websites HomesandGardens.com and Gardeningetc.com.
I've written about every area of the home, indoors and out, from shopping and decorating, appliances and home tech, wallpaper and fabric, kitchens and bathrooms, even extensions and conversions.
Louise Roe: Contributing Editor
Louise Roe is a journalist and TV presenter specialising in fashion and lifestyle. She began her career writing for womens glossies including Elle, In Style and Vogue.com, before moving to Los Angeles. She stayed for 11 years, presenting MTV's makeover show Plain Jane, and reporting from the red carpet at various awards shows, including the Oscars and Golden Globes.
Louise now lives in London with her husband and their two daughters, where they are currently renovating a townhouse. After beginning her Interior design-focused Instagram feed @LouiseRoeHome, decorating has become one of her favourite things to research and experiment with.
Instagram @LouiseRoeHome
Irene Gunter: Contributing Editor
Irene grew up in Belgium, surrounded by a family passionate about architecture and interior design. This inspired her to study Art History before training at the prestigious Inchbald School of Interior Design. As Creative Director of Gunter & Co, Irene personally oversees the design for every project alongside her team of designers who manage the day-to-day implementation.
Her favorite projects come when she works hand-in-hand with her clients, not just for them. She gets to know each one on a personal level, really getting under the skin on how they live their life, what their values are and how they prioritize their life, to create a space that works entirely for the client and their needs. Irene never rests on her laurels, even when designs have been signed off by a client, she will never hesitate to develop ideas with a new approach to a design – she lives and breathes the designs she works on. As a client of Gunter & Co you won't be surprised to receive a Whatsapp image with a design detail spotted in the bathroom facilities of a hotel Irene visited, or a paint colour spotted in a museum – she has a great eye for detail, is constantly hunting for new inspiration and never thinks twice to share that passion with her clients.
Inspiration for each project comes from a myriad of sources; from historical architectural details to contemporary building materials or vintage furniture to contemporary sculptures. She centers her designs around the tension between organic forms and regular repetition to create spaces that catch the eye, are thought provoking and packed with interesting talking points.
Travel for Irene is unashamedly driven by a hotel interior that is on her bucket list to see. She loves to unwind by listening to audio-books on walks through her local park, Wimbledon Common. Her favorite pastimes involve reading Belgian children's books to her son Oscar, and continuing her search for the world's perfect tiramisu recipe.
Annabelle Holland: Contributing Editor
The interior design studio, Annabelle Holland, and the interiors brand Anbôise are names synonymous with luxury British interiors. The award-winning interior design studio, launched in 2010, is renowned for combining contemporary and classic furniture, creating a sense of evolution over time and providing unique, multi-layered designs with depth and interest. It was this drive to help others create unique homes with character, which led Annabelle to launch luxury interiors brand Anbôise in June 2021. That, and an overheard conversation by a Venture Capitalist, who shared her enthusiasm for the concept. With this support, and the assistance of a team of Art and Antique experts, Anbôise has been propelled to the forefront of luxury British interiors almost overnight, offering evolving collections of Handmade British Furniture, Lighting, Art, Antiques & Accessories.
Annabelle's upbringing in Jamaica and her extensive travels around the globe have afforded her the ability to work across varied fabrics, patterns, themes and styles. Integrating a variety of inspirations and influences to inform her unique and signature style of design. Annabelle's keen business mind, creativity and design expertise have formed a powerful fusion of talents, culminating in the success of Anbôise and Annabelle Holland Design Ltd. Prior to establishing her interior design career, Annabelle worked in the Financial Services industry as an analyst at Citigroup and as a senior associate at a multi-billion-dollar New York based hedge fund, having graduated from Edinburgh University with a Masters in Economics. Annabelle lives in Hampshire and with her husband and two young boys.
Natalia Miyar: Contributing Editor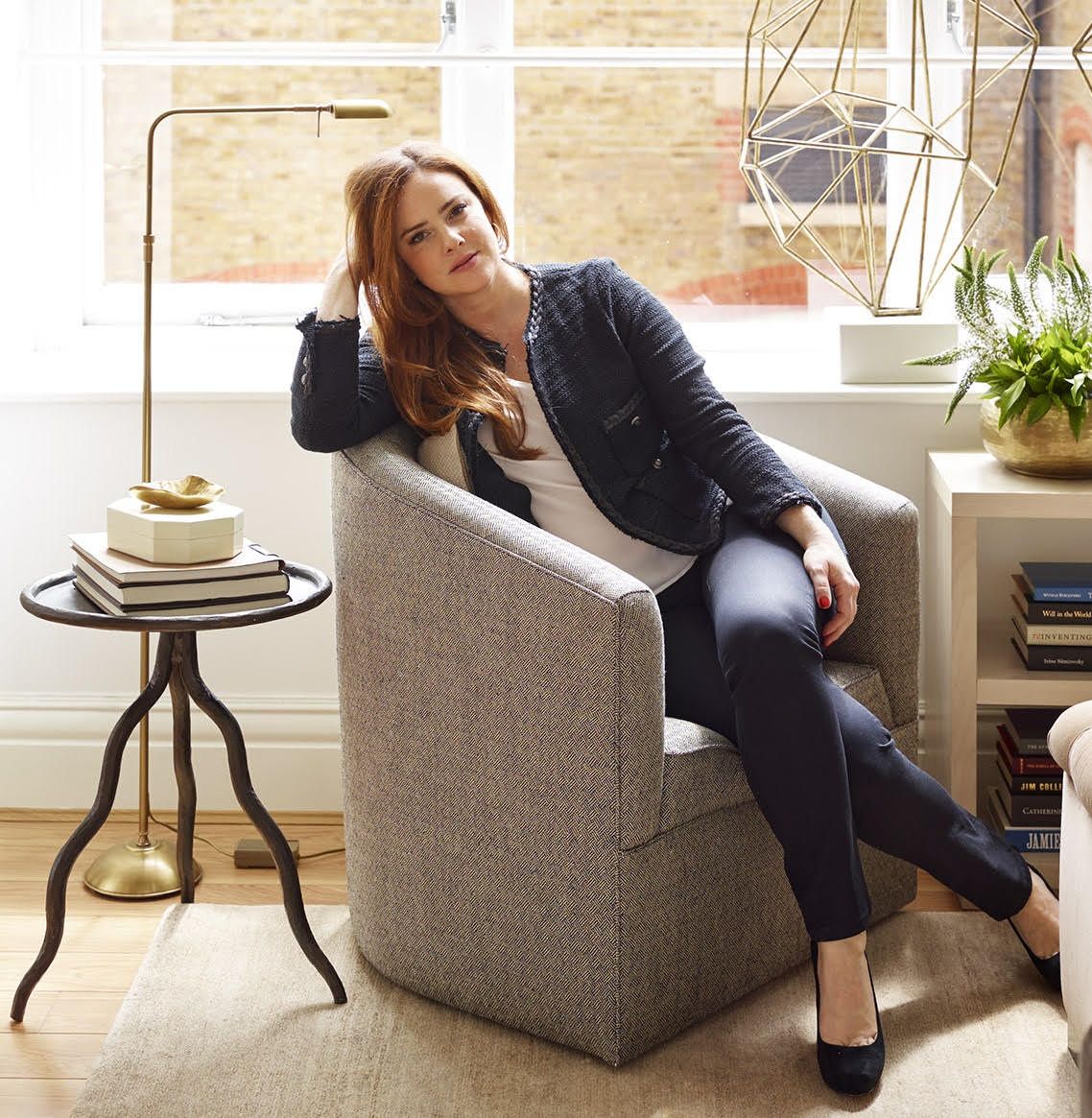 Natalia Miyar is one of the strongest international interior design talents to emerge in recent years. As a trained architect she approaches design with a skilful understanding of balance and proportion, creating spaces which are both considered and lively with a finely tuned eye for materiality. Her eponymous London atelier is a conduit for creative collaboration characterised by a confident and artful use of colour, pattern and texture. With bases in London and Miami the fast-growing transatlantic team spearheaded by Natalia create effortlessly luxurious homes that are sought by a global stable of private clients favouring a client-faced approach.
Emma Sims-Hilditch: Contributing Editor
Founded in 2009, the Sims Hilditch design practice has become one of the most trusted and respected in the industry. Its couture approach combines interior architecture, interior design and procurement management within one concept-to-completion, fully bespoke service. Creative Founder, Emma Sims-Hilditch is passionate about her belief that good design can transform not only how people live but also how they feel. By creating characterful, beautiful and intelligent interiors, Emma and the Sims Hilditch team empowers clients to radically improve the quality of their lives.
Cortney Bishop: Contributing Editor
Cortney Bishop, principal design and owner of Cortney Bishop Design, founded the full-service interior design firm in 2007. She holds a BBA in business marketing from the University of Georgia, and pursued her design career by blending her passions for travel, art, fashion and music. Her wide-ranging talent and innate ability to mix patterns and hues has resulted in a robust portfolio of diverse, inspiring residential and commercial projects, each reflective of a client's lifestyle, personality and aesthetic. With a vision that runs the gamut of style and structure, Bishop enjoys inspiring other creatives, clients and everyday people through design. In addition to running her design studio, Cortney also launched Harwood House, a line of woven textiles designed for season layering while offering a modern interpretation of classic patterns in collaboration with Holland & Sherry, in June 2019.
Henriette von Stockhausen: Contributing Editor
Henriette studied at City & Guild of London Art Schools and gained a master's degree at Sotheby's Institute where she honed her appreciation and love for antique furniture and decorative design from 17th Century through to 20th Century. She was also very much involved in country house sales which fed her appetite for beautiful architecture of historical interest. Deciding to move into interior design, Henriette studied at the prestigious Inchbald School of Design. On graduating she gained experience with leading interior designers including Stephen Ryan who had been head of David Hicks Design. She also had a spell in theatre design which enabled her to indulge her more flamboyant side and made her realise just how much she relishes any challenge.
Birdie Fortescue: Contributing Editor
Birdie's creative journey started when she worked at Percy Bass, an interiors shop and design service on Walton Street. Birdie then went on to join Imogen Taylor's team at Sibyl Colefax & John Fowler's old premises in Mayfair. Many buying trips later and with a decorative antiques course from the V&A Museum under her belt, Birdie decided to set up her own antiques business. Establishing the business in Norfolk in 2014, Birdie initially focused on sourcing homeware from Scandinavia, pieces that weren't easily found in the UK, before creating her own designs. From block-printed fabrics to unusual table lamps Birdie's discerning eye enables her to create unique designs that sit comfortably alongside the antiques and contemporary art sourced from artists both local and further afield.
Tricia Guild: Contributing Editor
Tricia Guild OBE is the creative force of Designers Guild and has been at the forefront of interior design since starting the company in the early '70s. Internationally renowned for her passion for colour, pattern and texture as well as her signature lifestyle brand and books, Tricia Guild has been setting the pace with her dynamic and innovative collections, instantly recognisable for her unique and contemporary style.
' I had always wanted to create a lifestyle – I was working as an interior designer and was utterly frustrated at the lack of exciting and interesting contemporary textiles. I felt I had something different to say and I was young and fearless and decided to give it a try. I had a great passion for India and our first fabric collection was inspired by my recent travels there – I had a group of small block printed designs that we had made in tiny quantities. I wanted to show the collection in situ not just as abstract pieces of fabric so I bought a few lampshades, made a few cushions, covered a sofa or two and put some rugs down in the shop, added some books and lovely ceramics I had found and then very nervously... opened the door. I was staggered at the response. People seemed to love it. It was extraordinary and that initial response gave me the confidence to continue. Slowly and steadily, the brand developed and although we are now a much larger company, my initial concept has not changed – to create a way of life... a lifestyle, to be a destination where people could buy one small beautiful thing or have their whole house decorated.'
Charu Gandhi: Contributing Editor
Charu Gandhi is Founder & Director, Elicyon. Charu Gandhi is a qualified Architect, registered with RIBA and ARB, who studied and taught at the Architectural Association before joining the London offices of Allies & Morrison Architects in 2006. During her time there she worked on several exceptional residential and hospitality projects in Beirut, Kerala and Qatar. Her portfolio of commissions also included the Doha National Library and the London Olympics Masterplan.
In 2011, Charu joined the Candy & Candy group. Her role in the private commission team saw her running their highly prestigious international portfolio of commissions, which included exclusive villas and private homes across India and Africa. Charu also designed residences in the esteemed One Hyde Park development. Her international upbringing has instilled in her a wealth of knowledge and experience that allows her to move seamlessly between different cultures. Charu is inspired by historical references and cultural details via travels and people, architecture, sculpture and theatre. In her pursuit of creating beautiful spaces for her clients, Charu hones her own skills in making through origami and the Japanese art of Kintsugi. Charu established Elicyon in 2014, driven by a desire to combine the rigours of her architectural training with her creative flair and passion for design and craft.
Together with her dynamic team of talented Designers, Architects and Project Managers, Charu takes each client on a highly personalised journey, working in collaboration with them throughout the design process in order to understand their brief and capture it through her vision by establishing a design language that is appropriate to them, the project, location, architecture and history. Charu is passionate about materiality, texture and craft; Elicyon's work is carried out in collaboration with an exclusive community of likeminded craftspeople, artisans, manufacturers and artists with whom Charu and the Studio have developed a symbiotic relationship.
Now in its seventh year, Elicyon is creating luxury, bespoke interiors for private clients, residential developers and boutique hotels in some of London's most illustrious addresses, as well as around the world. Elicyon's recent projects include the first ever show apartment at Chelsea Barracks, private homes within Clarges, Mayfair Park Residences and boutique property development, Beaufort Gardens in Kensington. Elicyon is also currently working on a number of ambitious, large scale projects in the Middle East. Charu's past experience in Dubai includes designing the show apartments in One Palm Jumeirah, the residential development home to Dubai's most expensive apartment. The studio installed an impressive 11 projects in 2020, managing to overcome the numerous challenges presented. More than ever before, Elicyon is working in constant tandem and collaboration with its high net worth clients to design their dream spaces, as the home becomes an even more important place for all – a true 'sanctuary'.
Kerryn Harper-Cuss
Interiors editor and brand consultant, Kerryn Harper-Cuss has worked on four interior magazines and edited three of these, most recently The English Home, where she was Editor-in-Chief of both its UK and US editions for almost 12 years. She now writes for a number of high caliber publications, moderates design seminars and is particularly delighted to pen profile features on world-class interior designers for a regular slot on the Homes & Gardens website.
She is passionate about craftsmanship and slow living, endlessly curious about the stories of makers and a keen champion of specialist indigenous skills both from Britain and around the globe.
She is also ambassador for QEST and Design Havens for Heroes.
Arabella Youens: Contributing Editor
Arabella is a freelance journalist writing for national newspapers, magazines and websites including Homes & Gardens, Country Life, The Telegraph and The Times. For many years she has specialised in writing about property and interiors, but she began her career in the early 2000s working on the newly launched Country Life website, covering anything from competitions to find the nation's prettiest vicarage to the plight of rural post offices. Moving across to the magazine, she became the property editor and also was responsible for spear-heading Country Life's new regular interiors section, which has now a firm fixture in its make up. In 2016, she left her position as property & interiors editor and went freelance. She lives in west London with her husband and two daughters.
Linda Clayton: Contributing Editor
I graduated from Cardiff University with a First in Journalism, Film and Broadcasting and, after a very short and very stressful court reporting post, decided hard news, death and tragedy was not for me.
My love for interiors began when I bought my first utter wreck of a home two decades ago, and I soon realised writing about fabric and fridges would make me far happier. I've been working for Homes & Gardens, then sister-brands Livingetc, Country Homes & Interiors and Ideal Homes, since 2006.
I've covered all manner of interiors topics but kitchens and bathrooms are my Mastermind subjects. I cut my interiors teeth on a trade title for the kitchen and bathroom industry, gadding about Europe to tour the manufacturing facilities of all the major brands. There's not much I don't know about carcase construction or the ins and outs of water pressure.
The late Mark Wilkinson OBE was (and still is) my all-time design hero. He was extremely talented, a genius really, but also so generous with his time. His love of fine wine and gourmet food (not to mention culinary skills) pretty much sealed my adoration.
For homewares my go-to shop has to be Nkuku, and not just because, like me, they're based in Devon. They support small, artisan trades globally and have a magical store and cafe near Totnes that is impossible to leave without something new, handcrafted and utterly gorgeous. I also just bought some lights from newcomer Houseof (houseof.com) and was seriously impressed by their quality and design flair, especially given their price tag.
I'm definitely more minimalist than maximalist – too much 'stuff' makes me anxious – but I'm always striving for a homely home. Currently on my fourth utter wreck of a home, 'building site chic' is probably the most accurate description right now.
Sarah Warwick: Contributing Editor
Sarah is a freelance journalist and editor writing for websites, national newspapers, and magazines. She's spent most of her journalistic career specialising in homes – long enough to see fridges become smart, decorating fashions embrace both minimalism and maximalism, and interiors that blur the indoor/outdoor link become a must-have.
She loves testing the latest home appliances, revealing the trends in furnishings and fittings for every room, and investigating the benefits, costs and practicalities of home improvement. It's no big surprise that she likes to put what she writes about into practice, and is a serial house revamper.
For H&G, Sarah writes features about interior design.
Website: Tailored Content
Yvette Filer: Contributing Editor
Yvette's first steps into interior journalism came several years ago when she joined the team at specialist consumer magazine Kitchens Bedrooms & Bathrooms, which is where her love for home design (and obsession for decorating) began to truly flourish. She worked on the title in a variety of positions, before being appointed as Features Editor on Essential Kitchen Bathroom Bedroom magazine, further cementing her voice as an expert in the three core rooms of our homes.
During her years working in London, it became a running joke that Yvette wanted a fully stocked cocktail trolley in her apartment but would need to leave the city if she wanted to afford – and comfortably fit – one in her own home. Funnily enough, in 2019 she did exactly that, and can now be found sitting happily in her spacious Bristol adobe, cosmopolitan in hand.
With a keen eye for new trends and innovations, Yvette continues to write about homes and interiors as a freelance journalist, sharing tried and tested advice for renovation projects and top tips for transforming your home into something beautiful.
Tara King: Contributing Editor
After nearly ten years working in the magazine industry, seasoned writer Tara decided to move on from her full-time position as a Content Editor and enter the exciting world of freelance, primarily covering the topics she's most passionate about: interior design, wellbeing, craft and homemaking.
As well as writing for Ideal Home, Style at Home, Country Homes & Interiors (to name a few), Tara's keen eye for styling combined with a passion for creating a happy – and functional – family home has led to a series of organization features for H&G. She's about to put her own advice to the test with an imminent house move from town to country, and no doubt discover more top tips along the way. Watch this space…
Lola Houlton: Contributing Editor
Lola Houlton is H&G's long-term intern. Currently student of Psychology at the University of Brighton, she began writing content for Real Homes around the subjects of children's and teenagers' bedroom, in particular covering the psychology of teens and their approach to tidiness in her spare time. From there, Lola expanded her knowledge of a broad range of subjects and now writes about everything from organization through to house plants while continuing her studies.
Lola grew up in London with an interiors-obsessed mother, who schooled her hard in room layouts, color scheming and design in general – and while she originally considered working as a psychologist, she is now looking to work as a journalist full time, once she graduates.
Timothy Latterner: Contributing Editor
Timothy Latterner is a writer and editor living in New York City. His work has appeared in GQ, Conde Nast Traveler, Playboy, Vice, and Architectural Digest, where he also worked as the local news editor. He typically covers all things design, travel, and pop culture.
Instagram @timlatterner
Alex Temblador: Contributing Editor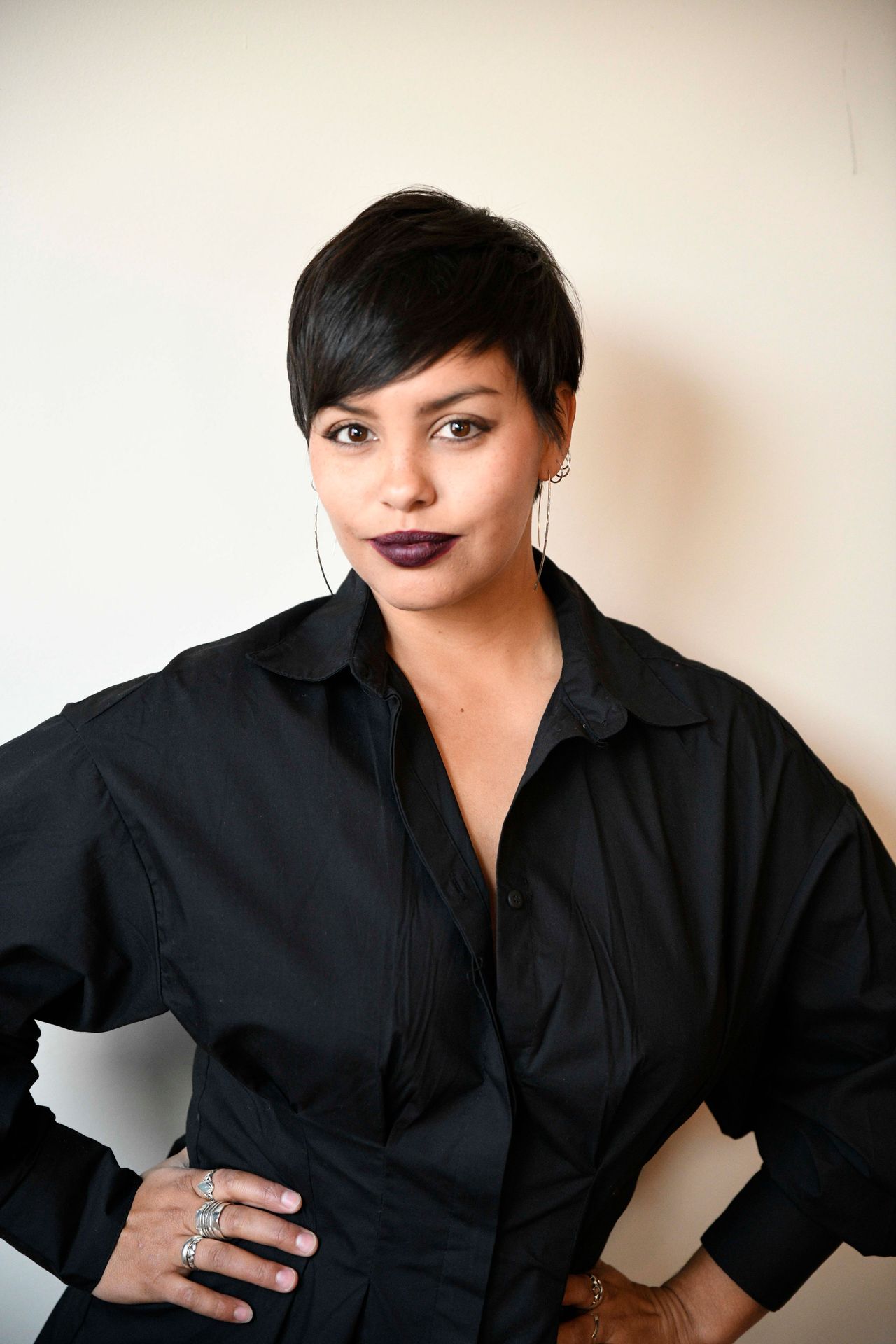 Alex Temblador is a Mixed Latinx award-winning author and freelance writer based in Dallas, Texas. Her work in the home space has appeared in outlets like Real Homes, Dwell, Architectural Digest, Culture Trip, and Neighborhoods.com, among many others.
She writes on a wide variety of topics for H&G, and has tested everything from vacuum cleaners to fitness equipment in the name of product research.
You can learn more about Alex at AlexTemblador.com.
Sophie Warren-Smith: Contributing Editor
I've been an interior stylist and journalist for over 20 years and have worked for many of the main interior magazines during that time, both in-house and as a freelancer. On the side, as well as being the News Editor for indie magazine, 91, I trained to be a florist last year and recently launched The Prettiest Posy where I curate beautiful flowers for weddings and events.
For H&G, I write features about interior design.
Marc Lupo: Contributing Editor
Marc Lupo is an entertainment writer, producer, and host. In addition to contributing to Homesandgardens.com, Marc serves as a weekly co-host for iHeart Radio's 'Naughty but Nice' podcast.
Throughout his career, Marc has conducted hundreds of interviews with celebrities including Helen Mirren, Hugh Jackman, Natalie Portman, Kristen Bell, Zac Efron, Charlie Sheen, Mandy Moore, Lamar Odom, and Laura Dern.
A native New Yorker, Marc has covered some of entertainment's biggest events, including The Grammys, Met Gala, MTV's Video Music Awards, VH1's Trail Blazer Honors and Variety's Women of Power luncheon. He was even in attendance when Cardi B threw her shoe at Nicki Minaj during a NYFW event held at The Plaza Hotel.
Marc is credited as a supervising producer and on-air contributor for several Us Weekly produced documentary specials including Luke Perry: In His Own Words, which aired on The Reelz Channel in spring 2019, and College Admissions Scandal: Varsity Blues which aired in winter 2020.
Marc's other work experiences include – The Wendy Williams Show, BET's Wendy's Style Squad, The Tyra Banks Show, The Nate Berkus Show, The Apprentice, Bravo's Tabatha's Salon Takeover, The Montel Williams Show and Live! With Regis and Kelly.
Instagram @Marcandrewlupo
Twitter @Marcandrewlupo
Cynthia Lawrence: Contributing Editor
Cynthia Lawrence is a freelance lifestyle and interiors journalist, and writes for various national publications. With an obsession for all things homes and gardens, she also has an interior design blog and spends most of her time surfing online for interiors inspiration to revamp her home.
For Homes & Gardens, Cynthia helps find the best products for you kitchen, and has been testing stand mixers, coffee machines and more.
Hazel Sillver: Contributing Editor
Hazel grew up watching and helping her green-fingered parents cultivate their town garden in North Yorkshire in the 1980s. She was especially spellbound by her mother's long rose bed of Hybrid Teas, which spawned her own obsession with roses.
After experience in the fashion industry, Hazel became a beauty and wellbeing journalist, and worked for The Ecologist as Green Living Editor. During a period of injury, she studied horticulture and garden design, and went on to work as a gardener and write about gardening for national newspapers, including The Guardian. Today, she enjoys regularly contributing to print and online magazines, including Amateur Gardening and Homes & Gardens.
Currently in rented property, she dreams of soon having her own garden again, to fill with favourite plants: perennials, trees, and – of course – lots of roses.
Leigh Clapp: Contributing Writer
Leigh Clapp is a professional photographer with over 25 years experience, primarily as a garden specialist photojournalist but also with food and travel.
She delights in exploring gardens, discovering the tiny elements to their overall essence and meeting lots of enthusiastic gardeners along the way. Inspired by the play of light, colour and form, photography is an artistic expression and passion for capturing the frames she has always seen in the world around her.
Leigh's work appears in magazines, newspapers and books, both in the UK and abroad, including Period Living, Country Life, and Gardens Illustrated; as well as being sole photographer for a number of books, including Garden Details, Feng Shui in the Garden, Vertical Gardens and From the Garden – fresh seasonal cooking
Sebastian Cox: Contributing Editor
I'm a designer, craftsman and environmentalist and am deeply curious about the link between the things we make and buy, and their impact on our environment. I run a business with my wife Brogan which makes furniture from British wood, and what makes us really different is that we also manage woodland and mill trees to give us material to work with, deepening our understanding of the connection between resources and habitats. We've won awards for our work, which spans individual pieces for private clients, contract projects with public bodies and brands, and ongoing relationships with architects and interior designers. This gives us a broad understanding of how to bring beautiful design into useful, meaningful spaces, while having a positive impact on the natural world.
In 2019 I was invited to write a monthly column for Homes and Gardens charting the seasonal rhythms of my business and the woodland we manage, and in 2020 we bought our first home by the sea in Margate, which changed to focus of the column to a sensitive and ecologically focussed but soulful renovation of a sea-weathered Victorian terraced house. Researching and writing the column has opened my eyes to new materials and ideas and it evolves naturally as our house progresses, slowly, as I do all the work myself alongside the growing up of our two baby daughters. I often write the column while paint or plaster dries or during periods of downed tools while the babies nap, and Brogan often takes the pictures as I'm working, so it really reflect the life of house as it changes.
I'm happily stretched between city, seaside and woodland, with a home on the coast, a business in London and a woodland in mid Kent. I love the change in pace and energy each brings to my life and I'm privileged to have all three as part of my life and work.
Instagram: @sebastiancoxltd
How do we reach a verdict in our buying guides?
The Homes & Gardens team is passionate about all subjects home- and garden-related. Together, we have many years of experience in the subjects and products that we write about, and use this hard-won expertise to bring you the very best finds for your home – from mattresses to blenders.
The products in our buying guides are very carefully chosen by our journalists based on specialist expertise and rigorous in-house testing. But we also conduct in-depth research into expert reviews, user reviews and ratings these products are given so that we can reflect not just our experience of the products we include, but yours, the consumers, too.
Our guides include many of the retailers you shop with, including our trusted merchants, so that the unbiased shortlist we bring you includes the best products on the market at the time of writing.
It is also worth knowing that our buying guides display products at the best prices offered at that moment – we use technology to sort through the thousands of deals to offer the best prices from the most trustworthy retailers. You can support us by clicking these independently selected links, as we may earn a commission on any purchase you make, at no extra cost to you.
Our reviews are rated on a system of 1-5 stars, based on the criteria of:
Design desirability – how good does it look, and does it meet our style aspirations?
Durability – how well does it stand up to daily life?
Performance – this depends on the type of product but might be comfort (mattresses), or power/efficacy (vacuum cleaners)
Point of difference – what made it stand out?
Price – how does it compare with its competitors?
Our experienced reviewers give each product a score out of five for the criteria leading to a total that translates to a star rating, that we then assign a Homes & Gardens badge to.
Please note: we aim to review and present only the best products so that you can make an informed choice and a quality purchase; we will rarely, if ever, highlight a poor product. However, for clarity, this is our star rating and badge application system.
Five stars – these products are awarded an H&G Tried & Trusted Gold award, as are products awarded 4.5 stars. This star rating and award denotes an outstanding product in all of the above criteria. It is rarely awarded, although we do aim to review the best quality product possible and the various industries' leaders, to ensure you'll be buying the best products for your homes.
Four stars – these products are awarded an H&G Tried & Trusted Silver award and denote an excellent product that delivers on all the key criteria and would be a good investment for you.
Three stars – a good score that denotes the product has elements of all of the above criteria. It is the standard rating for products that could be enjoyed by most of our audience.
Two stars – denotes a product that significantly disappoints on one of the key criteria above – perhaps it is well-made but overpriced, or looks good but feels uncomfortable.
One star – denotes a product we feel fails to deliver on several of the key criteria and is best avoided by most of our audience.
You will also see our Editor Approved badge. This denotes a product our Editor deems to be noteworthy, high quality and utterly brilliant – but it is likely to be one that may not be relevant for a buyer's guide or a review or testing. Think textiles, handsome accessories or furniture.
Code of conduct
Homes & Gardens is a member of the Independent Press Standards Organisation (which regulates the UK's magazine and newspaper industry). We abide by the Editors' Code of Practice and are committed to upholding the highest standards of journalism. If you think that we have not met those standards and want to make a complaint please contact homesandgardens@futurenet.com. If we are unable to resolve your complaint, or if you would like more information about IPSO or the Editors' Code, contact IPSO on 0300 123 2220 or visit www.ipso.co.uk.

My first job was writing a DIY column for a magazine for the over 50s (which seemed a long way off back then). I then moved to a DIY magazine as deputy ed, then freelanced my way around the homes departments of most women's magazines on the market before working on Your Home and Family Circle magazines as homes editor. From there, I went to Ideal Home magazine as associate editor, then launched 4Homes magazine for Channel 4, then the Channel 4 4Homes website before going back to freelancing and running a social media business (you can see where I had kids from the freelancing gaps!). I was tempted back to the world of big business by the chance to work with the great team at Realhomes.com, where I was Global Editor-in-Chief for two and a half years, taking it from a small website to a global entity. I've now handed the reins of the website to our American managing editor, while I take on a new challenge as Editor-in-Chief of Homes & Gardens.